WABA Members get discounts on Electronic Bikes at E+ Electric Bikes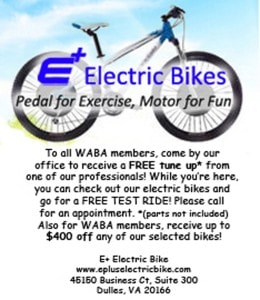 Sometimes you just need a little extra push in the right direction.   If you've ever been curious in an electric bike is right for you or are already thinking about purchasing one,
join WABA today
(if you haven't already) to take advantage of this amazing deal.  
E+ Electric Bikes
in Reston now offer a FREE TUNE UP to WABA members and $400 off electronic bikes.  If that doesn't get you revved up for the holidays, what will?