DC Bike Parking Amendment Passed!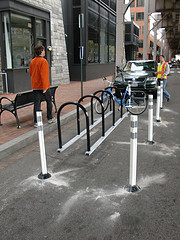 For those who missed it amidst the holiday hubbub, the Bicycle Commuter and Parking Expansion Act of 2010 passed this week.  Thank you to the 300+ WABA members and supporters who joined us in drafting letters to the DC Council urging passage, and to DC Bicycle Advisory Council Chair Meredith Begin, who provided strong hearing testimony on behalf of the cycling community. Now, we look forward to seeing the regulations implementing these rules. A question for our readers: The
fiscal impact statement
assumes that enforcement will require specific building inspectors averaging $54,867 each.  Doesn't this seem like a place for individual cyclists to help at much lower costs, assuming a good reporting system is put in place?  If you could be assured that someone would act on it, would you report facilities without the required parking to 311 or some dedicated hotline? Let us know what you think in the comments, and we'll look forward to seeing (and commenting on) those regulations.