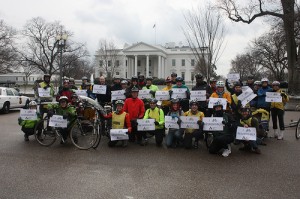 Despite a light dusting of snow and temperatures just slightly above freezing, Saturday's New Year's Resolution Ride drew nearly fifty dedicated riders.
We had a great time using some of the new bicycle facilities in DC, including the Pennsylvania Ave. bike lanes and the full length of the 15th Street Cycletrack.
Thanks to all who came out, and especially to our volunteers.
For those keeping count, our Resolution to Ride Responsibly has now been signed by over 700 cyclists, and it remains open for signatures through January.