South Capitol Street Trail Threatened by St. Elizabeth's Road Widening
In December, GSA released its draft
environmental impact statement (EIS)
examining the impacts of alternative land use and transportation facility changes accompanying the development of the St. Elizabeth's campus in Southeast DC into a consolidated DHS headquarters. While we question numerous assumptions regarding mode share (they assumed zero bikes) and are concerned by the nearly exclusive focus on roadway widening as a transportation response to the demands of this massive development, we are especially concerned by the federal GSA's failure to consider the impacts on
the District's proposed South Capitol Street Trail.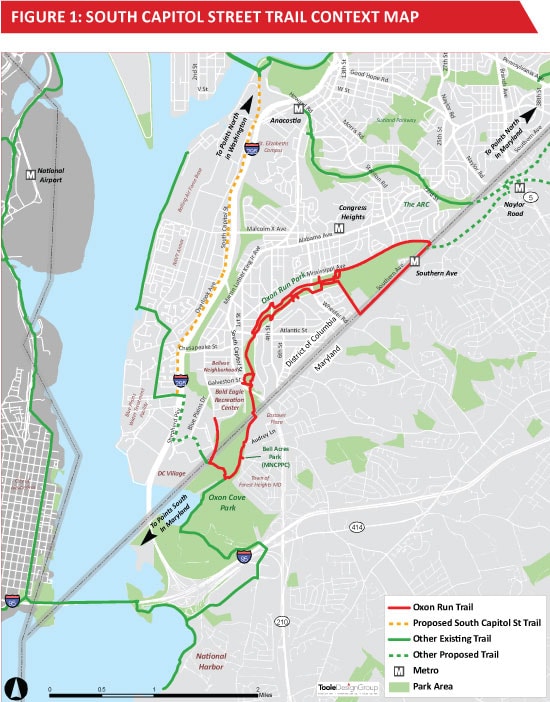 In fact, the South Capitol Street Trail was simply ignored. The Alternative 1 alignment described in Section 3.4.2 includes changes to South Capitol Street.  
Those changes have not taken into account the planned trail and may preclude the possibility of its being built.
Where the document is required to discuss the "environmental consequences" to transportation infrastructure (Section 5.7) it only discusses vehicles and does not disclose its potential impacts on the South Capitol Street Trail.  And while the document mentions other transportation plans in the cumulative analysis, the South Capitol Street Trail Plan is not included.   Most glaringly in the Transportation Study itself (Appendix C), the required analysis of "Future Transportation Facilities" (Section C-5.3.8) states only that a signed bike route is planned along the South Capitol Street and makes no mention of the Trail Plan. The South Capitol Street Trail is a fundamental part of completing the network of trails east of the Anacostia River, and will provide a key transportation and recreation pathway for residents in southeast DC, as well as a key connection from Prince George's County and the Wilson Bridge crossing into downtown DC. GSA will be holding a public hearing on the Draft EIS on
January 13, 2011, from 6:00 p.m. to 8:30 p.m.
, at the Matthews Memorial Baptist Church, located at 2616 Martin Luther King, Jr. Avenue, SE, Washington, DC. The hearing is being held to present the findings of the Draft EIS and to provide the public an opportunity to submit oral and/or written comments on the proposed action. Please consider attending this important public hearing to demonstrate to the drafters of the EIS and the St. Elizabeth's planning and development team the importance of bicycle facilities in the area, and to publicly state your support for an option that allows the planned South Capitol Street Trail to be completed. If you cannot attend the meeting, you can still submit written comments until February 2 through the
WABA Action Center
.