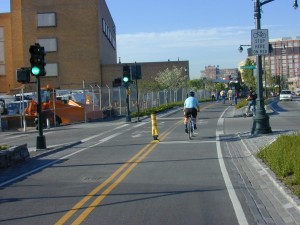 Last week, Prince George's County Executive Rushern Baker released a lengthy transition report including numerous proposals to improve county government.  But one of his recommendations, if implemented, could marginalize the county's bicycle and pedestrian planners by pushing them out of the transportation review process.
In a section entitled "Change 1: Transportation Reviews," (p. 32) the transition team recommends that all authority for reviews of engineering design, operations, and maintenance of roadways be given to the Department of Public Works and Transportation (DPW&T), and that opportunities for review and input be removed from the Maryland National Capital Park and Planning Commission (M-NCPPC).
This is a step in the wrong direction.  For years, WABA has been advocating for a bike coordinator for Prince George's County to ensure that bicycles are considered in roadway design, operations, and maintenance decisions–but still there is no such coordinator.  Instead, bike issues have been left largely to M-NCPPC staff and to the Prince George's County Bicycle and Trails Advisory Group (BTAG), which is overseen by M-NCPPC.
While we strongly support the creation of a countywide bicycle coordinator to work with DPW&T, it is M-NCPPC that has the expertise in bike planning. To minimize the ability of that agency's qualified bike and pedestrian planners to provide input on the need for road improvements and the nature of those improvements is to undermine the very improvements in bicycle and pedestrian connectivity and livable, sustainable development that County Executive Baker has extolled.
DPW&T remains, by and large, a traditional, automobiles-first transportation agency, and has been reluctant to take the steps necessary to improve roadways for the benefit of cyclists–even going so far as to recommend that a cyclist not travel a certain roadway in the county with his child due to its unsafe conditions, while refusing to make improvements.
Removing the qualified bike and pedestrian planners from the roadway review process is counterproductive.  And while removing an agency from the process flowchart might seem to improve efficiency, it will result in roadways that are less safe for all and a community that is less livable, walkable, and bikable for all.
We appreciate the County Executive's transition team's efforts to improve Prince George's County's review processes, but we hope that County Executive Baker will stand by his statement in a March 8 letter to WABA that he will work with us "to advance the agenda of better bicycle and pedestrian connectivity as issues that can improve individual health, as well as create stronger communities and a more sustainable environment."