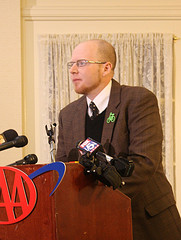 Baltimore Sun – Mike Dresser's blog
http://weblogs.baltimoresun.com/news/traffic/2011
/03/aaa_lawmakers_seek_new_auto_ma.html
Law Advice Blog picked up Dresser's blog
http://www.lawadvice.ws/aaa-lawmakers-seek-new-
auto-manslaughter-law-baltimore-sun-blog/
CBS Baltimore's website (WJZ-TV)
http://baltimore.cbslocal.com/2011/03/29/group-wants-
legislature-to-close-vehicular-manslaughter-loophole/
WJZ-TV 11pm – closed captioning
Derek Valcourt explains family members of victims are not making an emotional appeal for change. Reporter: 15-year-old Conner Cole struck and killed by a reckless drive. Cole's father calls that man's punishment unfair. He did not go to court. We never saw him. He killed our son and just paid a fine. Reporter: Harry Koswski killed by a man who was looking down at a phone. I think perhaps even spending a week or two in a local jail facility might have gotten the point across. That what he was doing and the way he was driving was a serious problem. It was extremely irresponsible. Reporter: both families now advocating for a change. The current law one of only a few in the country that requires proving a driver acted with negligence. That's why AAA Mid-Atlantic is asking the congress to pass House Bill 363. It would be punishable by a $5,000 fine and up to three years in jail. The bill has been defeated for the past five years but already this year it's passed unanimously in the house. Supporters are concerned it will get caught up in the proceedings.
WBAL-TV
http://www.wbaltv.com/politics/27362706/detail.html
WBFF-TV
http://www.foxbaltimore.com/newsroom/top_stories/
videos/wbff_vid_7103.shtml
WMAR-TV
http://www.abc2news.com/dpp/news/state/
lawmakers-want-to-toughen-the-penalties-for-negligent-drivers
Kate Ryan Reports blog
http://kateryanreports.blogspot.com/2011/03/its-
cosmically-absurd.html
Washington Post

http://www.washingtonpost.com/local/victims-families-aaa-push-for-stronger-
vehicular-homicide-law-in-maryland/2011/03/29/AFNEBxxB_story.html
WMDT.com

http://www.wmdt.com/Global/story.asp?S=14346187
TBD TV (D.C.) – closed captioning
Family members who lost loved ones as a result of "negligent drivers", are pushing for a new bill they say could save lives on Maryland roads. The bill is getting support from lawmakers and transportation officials, who want the legislation passed, after years of delay. Locator: Annapolis, MD. Adiva Sotzsky- victim's widow 11-16 Edward Kohls-victim's father 26-33 Del. Luiz Simmons- d-District 17 52-106 Lon Anderson- AAA Mid-Atlantic 126-134 trt: 143 oc: soc Adiva Sotzsky lost her husband in 2004, she says he was killed in a collision with a truck driver, who walked away after paying a traffic citation. Sot: he paid a few hundred dollars in fines, never apologized never demonstrated any remorse, EDWARD KOHLS LOST HIS 15-YEAR-OLD SON IN 2008. HE SAYS the CRASH HAPPENED IN FRONT OF HIS HOME, AND WAS CAUSED BY A RECKLESS DRIVER. SOT: he paid about 1200 dollars in fines, he did not go to court. We never saw him, he killed our son, and just paid a fine. Two families shared their stories in Annapolis with hopes that 2011 will be the year Maryland legislators consider closing the loophole in vehicular manslaughter laws. Delegate Luiz Simmons has spoed legislation for 7-years.