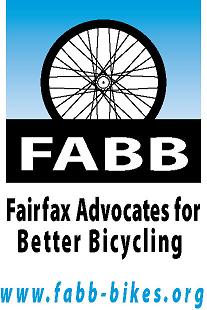 As a volunteer-led advocacy group, Fairfax Advocates for Better Bicycling (FABB) has already proven itself one of the best bicycling advocacy groups in the nation, as demonstrated by its selection as winner of the 2011 Alliance Advocacy Award for Innovation.  This award, sponsored by the nationwide umbrella group of walking and cycling advocacy groups, was given to FABB for its Guide for Reviewing Public Road Design and Bicycling Accommodations for Virginia Bicycle Advocates.
But FABB does much more.  Commenting on roadway plans, informing the public of cycling-related issues and needs, fighting for cycling staff and funding at the County-level, working with statewide Virginia advocates, teaching commuter seminars, providing lights and safety equipment….  The list goes on and on.
Now, FABB will be joining with WABA as a sponsored project–which will enable them to formally seek donations, grants, and funding for their initiatives, and will give them access to many of our advocacy and outreach tools.
To area cyclists, the result is simple: A stronger voice for cyclists in Fairfax County.  Combining the local expertise of FABB with the regional advocacy and resources of WABA, the possibilities are limitless.
FABB is ready to take on a full slate of new and ongoing advocacy activities in Fairfax County this spring and summer.  And I am looking forward to working with them and seeing how they can transform Fairfax County into a more bicycle-friendly place.
We are asking Fairfax County WABA supporters to help them get off on the right foot as they take this step forward to bigger and better activities in the County.
Now that they are able to receive funds, we at WABA want to help them get started in their work immediately.  Any contributions made to WABA in response to this request will be divided, with 50% going to WABA's regional work and 50% directly to FABB to kickstart their next phase of programming in Fairfax County.
We are excited to formally welcome FABB into the WABA family, and I hope you will be too.
If you are not already familiar with FABB's work, please visit them at www.fabb-bikes.org