Announcing BikeFest 2011: Registration is Open!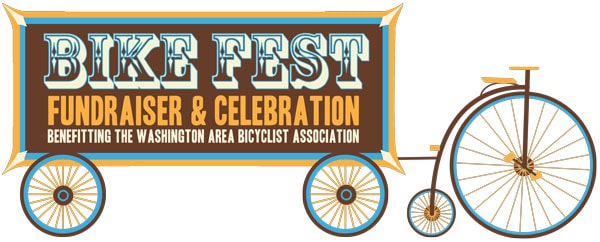 Last week, we sent emails to our members and supporters announcing WABA's June 11th BikeFest Fundraiser and Celebration. This event is a change from past years in which WABA's annual fundraiser has been a more formal gala function.  But this year, with the growth of cycling, recent legislative and regulatory victories, and progress on trail and infrastructure projects, it just makes more sense to have a celebration. With so many cyclists joining us on the regions trails and roadways: we needed a bigger party.  So this year's event will celebrate the past year of cycling while building momentum and raising funds for coming advocacy and outreach initiatives in the region. We are adding more to the program every day.  But so far, you can count on:
Live music from DC's Second String Band
Bike-related prizes, silent auction, and raffles
Bike-themed carnival games and entertainment
Excellent food and drink
A fun-filled and enjoyable celebration of the year that brought us Capital Bikeshare, the first phase of the Metropolitan Branch Trail, Pennsylvania Avenue Bike Lanes, DC's First Cycletrack and Bike Signal, a DC Complete Streets Policy, Maryland's Negligent Homicide Law, a Tyson's Bike Master Plan, WMATA Bike Modeshare Goals, and a general growth of cycling in our region that shows we're on the right path!
And the main event: The crowning of BikeFest's Best Builder of 2011, which pits 3 local shops–CityBikes, Papillon, and Oasis–against one another to build a full bike with only $250, their used parts bins, and creativity.  You select the winner with a combination of votes and bids, and someone in the crowd will get to take home each of the bikes.
We have designed this event to have something for everyone–whether you're a sit-and-enjoy-the-show sort or a hit-the-dance-floor-partier, we have a place for you to come, spend time with your fellow cyclists, and celebrate a big year for biking in DC. Our goal is to welcome cyclists of all types, young and old, new and experienced, for a night of celebrating the one thing that can bring this diverse bunch together: A love of bikes. And we are especially grateful to the
Crystal City Business Improvement District
and
Vornado
for providing us a great space and the freedom to turn it into a BikeFest carnival and celebration like no other! Tickets can be purchased 
HERE
.