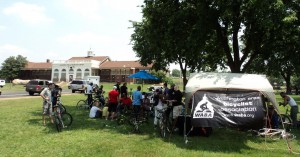 The East of the River program is gaining momentum with each mobile bike shop.  We spent Memorial Day working on bikes with The Bike House and over 20 local cyclists outside the Anacostia pool.  So far we've put almost 60 bikes back on the road, taught a dozen cyclists to ride, and provided routing and safety information to many.
Our bike giveaway drawing is now closed with over 70 entries for one of our 5 bike packages, including: a Jamis Commuter 1 bicycle, OnGuard Bulldog Mini U-lock and cable, and helmet.
We will be judging the entries in the next week and making decisions on recipients of these bike packages and the 20 Capital Bikeshare memberships.
(Thank you to our many donors to the East of the Anacostia Program.  We are also extremely appreciative of the in-kind support from BicycleSPACE for the discounting and assembling of these bicycles, OnGuard for providing the locks, and DDOT for supplying helmets.)