Thank you for supporting WABA at this year's 2011 Bike Fest!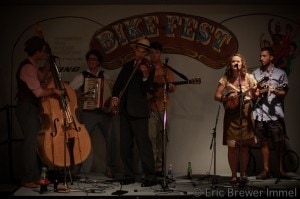 Whether you were promenading on the dance floor, competing for raffle prizes and silent auction items, looking glamorous in the photo booth, or observing the many enchanting performers from afar,  it was obvious that fun was had by all at Bike Fest, our annual fundraiser. The Bike Fest Bike Build Contest was the highlight of the evening. Three local shops, including
City Bikes
,
Oasis Bike Works
and
Papillon Cycles
, went head-to-head to assemble the most creative, hand-crafted bicycles from new and used parts, using less than $250. Votes were cast and the margins were slim. Papillon led the pack and was hailed this year's champion with it's sleek and sturdy english touring bike design. City Bikes' reinvention of the cargo bike and Oasis' "Thrixie" a three-spead fixie mountain frame were also star attractions.  We can only hope that next year's Bike Build participants were taking notes! This is the part where we show our appreciation for those who made this event possible, including
Boeing
, our event sponsor, as well as
Vornado Charles E. Smith
and the
Crystal City BID
for providing the unique venue. We'd also like to thank…
Our group of dedicated volunteers for contributing their time and creative energy to Bike Fest (and a personal shout out to the dedicated woman who traveled the farthest and worked the hardest. Thanks Mom!).
ESP Sound for setting the stage and bringing the noise.
Second String Band for an evening of local, world-class bluegrass.
BaseCamp, the talented designers who created our  "fresh and polished" poster artwork.
Eco Print for allowing us to distribute our print materials.
Scoops2U for providing frozen treats for all of our guests.
Cranky Style's Jay Hudson for our Bike Fest mural and for sharing his custom bicycle art (with the help of BicycleSPACE) for the evening.
Papillon Cycles, Oasis Bike Works, City Bikes for stepping up to participate in our first annual bike-build contest.
Strosniders for supplying satiating snacks.
As well as the generous individuals and organizations who donated to our silent auction and raffle: Revolution Cycles, Wheel Nuts, Numi Tea, Sticky Fingers Bakery, the Dupont Hotel, the Firefly Restaurant, The C & O Canal Trust, National Pedicab, The Washington Bach Consort Reinventing Reality and Eythink.
Fortunately the evening was documented from start to finish by filmmaker Edward Eastep and photographers Eric Brewer Immel, Patricia McDougall and Jason McCool. For more pictures check out our event slideshow. Once again, thank you to all those who attended, we hope you enjoyed the sites, sounds and activities of the evening and we  look forward to seeing you all at next year's Bike Fest!