Marya McQuirter's Cycling Journey
I have
Marylou Jackson
,
Velva Jackson
,
Ethyl Miller
,
Leolya Nelson
, and
Constance White
to thank for propelling me into the cycling world. I found these New York cyclists more than 10 years ago in a
Washington Tribune
newspaper photograph. They were posing atop their bicycles after riding more than 250 miles in three days in April 1928. Yes, 1928!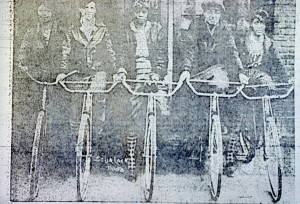 Once in DC, they started their sightseeing tour with the cherry blossoms, explored the usual Mall sights, rode north to Howard University, and then a few blocks west to the Phillis Wheatley YWCA, where they spent the night. The next day they hopped on a train, with their bikes in tow, for New York. Two years ago, I went to New York for the day on Acela and I thought of the cyclists. I got home, pulled out the photograph, and started researching. As a historian, I'm accustomed to online research, reading books and articles, and sitting for hours in libraries and archives.
But for this story, that wasn't enough
. I needed to fully experience cycling.  I have been cycling on and off since I was a child. I was very comfortable on a bike and enjoyed riding for pleasure. But being comfortable and enjoying riding didn't seem quite enough to fully grasp the knowledge and skills that these five cyclists had to have. So I went online and found WABA's classes. I signed up for CCC1, where we did basic drills like scanning, signaling, and turning. The instructor also showed us how to fix a flat, which I loved. A few weeks later, I took the CCC2 class, where we did more elaborate drills and a group ride. It was great! I learned the thrills and challenges of riding in a group. The next class, CCC3, was the 3-day certification seminar. I decided to go for it. It was quite intense! And well worth it. The CCC1 & CCC2 classes (as well as the Learn2Ride class) that I took as a student I now teach for WABA as an independent contractor. I have also started teaching individuals on my own. As a Licensed Cycling Instructor (LCI), I am certified and fully supported by the
League of American Bicyclists
.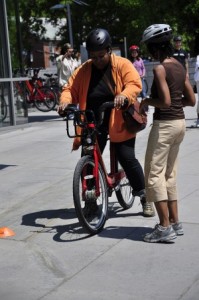 In addition to taking the cycling classes, I also learned how to fix my bike at
Bike House
, a bicycle repair co-op, conveniently located five minutes from my house. I took one of their Saturday series classes and I was also a teaching assistant at one of their Sunday series classes.
So what's next?
Riding my first century! I have no choice.
The five cyclists challenged women 21+ years and older to beat their time.
And even though I'm WAY older than 21, I'm not intimidated. Next April, I will take on the challenge with four other cyclists. I am also researching their personal lives, friendship, and cycling adventure in order to share their stories through visual & textual media.  I hope to have a 5-minute short done by the end of the summer.
I envision this as a collaborative project and welcome ideas, volunteers, and donations.
You can learn more about the 5 cyclists project by liking the FB page 
http://www.facebook.com/5cyclistsproject
and checking out the blog
http://www.5cyclistsproject.blogspot.com/
. Feel free to contact me directly:  5cyclistsproject@gmail.com or 202.372.5804.
(Marya McQuirter, mentioned in this article from the Washington Post, teaches safe cycling for WABA and is the creator and organizer of the 5 cyclists project.  WABA is proud to be part of Marya's Cycling Journey and excited to see where it leads.)