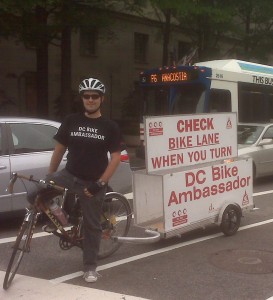 Get to know your local bike shop and join our Bike Ambassador as we head out to a slew of DC shops next week for WABA's first-ever shop outreach week! We love our local bike shops (without them, there wouldn't be anybody out there on the streets to advocate for) and we want you to love them too.
It's back-to-school season and nothing says "Welcome to DC, college freshmen!" like a bike! You can buy one brand new from any of DC's excellently stocked and superbly staffed bike shops or you can bring that "deal" you found online in and the masterful mechanics will fix it up and get it ready to ride.
We'll be out at a different shop each evening after work, handing out bike maps and safety info and encouraging folks to head on in and stock up on bike parts, apparel and accessories. Show us your receipt from the shop dated the day that our Ambassador is there, and you will be entered into a weeklong raffle for a WABA prize pack!
What's more, if you purchase a WABA membership at any of the shops next week, you will get a bonus gift from us and 2 more entries into the raffle. Wait, hold on, did we mention that WABA memberships purchased from our Ambassador will be discounted down to $25? This is the steal of the season!
Here is the schedule for Shop Outreach Week, all appearances will be 5pm-7pm. Come out, say hi, and get into your local bike shop!