50 States & 13 Colonies Ride Recap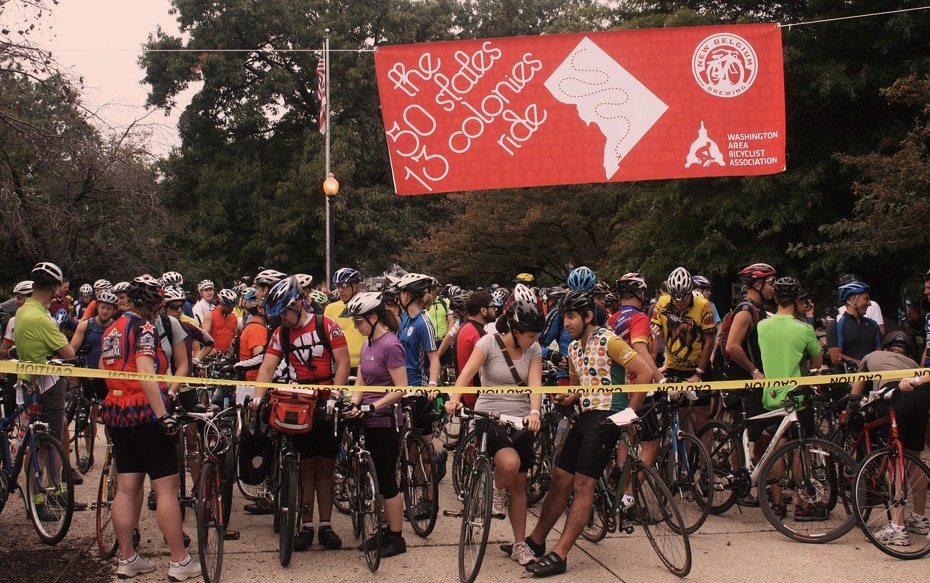 This year's 50 States  & 13 Colonies Ride was a resounding success for WABA and for those who biked more than 64-miles up and down and up some more, across The District's expansive asphalt terrain. To those who've never participated in the event, this ride may sound downright masochistic, and okay maybe there's some truth in that, but the pleasure is well worth the pain. Riders  discovered never-before-seen pockets of the city, formed lasting bonds along the way and earned the right to say, "I biked the 50 States!"
We couldn't have asked for a more pleasant, rain-free September day.  500 participants gathered at Kalorama Park to collect their cue sheets and bike maps, and enjoy fresh produce by Giant Food while lining up in the start area. Before the ride set off, WABA staff  relayed some basic safety tips and gave fair warning of the route's inherent difficulties. We advised riders, "It's not a question of whether or not you will get lost, it's a question of when you will get lost."
Fortunately, when folks missed the "unmarked alley on 15th St SE" or rode past Texas Ave. SE, they weren't lost for long. And that's due in large part to our ride support; the veteran 50 States Rider corps who have joined us for the past 8 years, and the dedicated ride marshals, stationary marshals and volunteers, who led the packs and swept the route. Some participants like to think of 50 States as a day to get out and explore the city on their own while relying on paper and intuition, however the general experience is one of teamwork and encouragement. We overheard one woman say, "for being an unsupported ride, I've never felt so supported on a ride!" And for that we owe a big thanks to the camaraderie of our 50 States rider community and our hard-working volunteers!
We also owe this year's success to our rest stop support. Thankfully, our staff was able to quickly zip across the city to follow the ride and set up rest stops with  Zip Car's gracious contribution of two fully-loaded SUVs. Normally WABA staff stick to two wheels but we had no choice, we had to be car-nivores for the day. These SUVs were necessary in keeping our riders hydrated and energized because they carried 500 gallons of water donated by Drink More Water and 500 energy snacks donated by the The Nation's Triathlon.
Riders weren't the only participants taken care of along the route, so were the bicycles. Mechanics from Takoma Park's The Green Commuter assisted riders at the start area, DC's BicycleSPACE provided  bicycle maintenance at the Anacostia rest stop,  The Bike House, a volunteer-run Bike Co-op taught riders how to do basic repairs during lunch, and The American University Cycling Team spent their afternoon wrenching at mile 59 on AU's campus.
Thanks for your time, energy and help, guys!
Lastly, we are most appreciative of the contributions from the latest and greatest, bike-centric brewers in town, The New Belgium Brewery, who sponsored the 51st State After Party. This year's ride would not have been complete without a couple frosted Fat Tire Ales, T-shirts and bike goodies to commemorate the day!  We are proud supporters of their work as a triple bottom line, employee-owned company and their passion for supporting the national bike movement and we are honored to work with them. And of course that couldn't have happened without our friends at The Grill From Ipanema who hosted our after party and provided delicious food, a patio perfect for cheering on the returning riders, bike parking and half of their dining area space for hundreds of sweaty lycrites!
We hope you enjoyed yourselves, and as always, we appreciate any feedback to improve this event for years to come. Please email nelle@waba.org with comments.