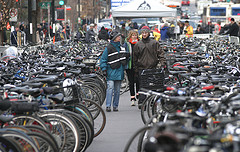 WABA is proud to partner with the Nation's Triathlon again this year to provide our bike valet service for over 5,000 triathletes, and
we need your support!
Without the helping hands and smiling faces of volunteers like you events like this wouldn't be possible. Every year WABA members and supporters volunteer to check tens of thousands of bikes at local events like the Casey Trees Open House, to the National Cherry Blossom Festival. Bike valets are a great opportunity for WABA members and supporters  to get involved, support your regional bike advocacy organization and have a good time.  Join us for an afternoon of checking in bikes, checking out bikes and talking about bikes! Please consider volunteering at  The Nation's Triathlon Bike Valet! Check out our
sign-up page
for more information. **volunteers at this valet will receive a free T-shirt and snacks from the Triathlon's organizers. And you know the deal, those who volunteer with WABA 3 times per year receive a free annual membership!
Location:
WABA will be staffing the valet at the Marriott Wardman Park during Course Briefings, Packet Pick-Up & Registration.
Dates and Shifts
Friday, September 9th from 11am to 4pm (Shift full). To sign up for Friday, September 9th from 4pm to 8pm,
click here
. To sign up for Saturday, September 10th from 9:30am to 3pm,
click here
. To sign up for Saturday, September 10th from 3pm to 8pm,
click here
.