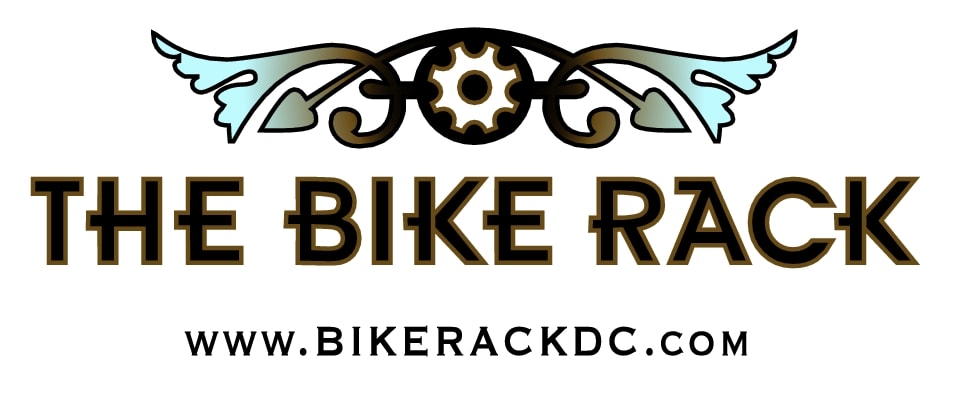 Last Thursday, The Bike Rack offered a new educational opportunity to its customers and we were happy to help out. Our Bike Commuting Seminar has been one of the services that we offer to are employers looking to show the benefits of biking and physical activity to their employees.  Traditionally, we have held the class as a "brown bag" lunchtime education session for employees, complete with a slideshow, folding bike demonstration, free maps and guides for attendees, and a discounted WABA membership offer.
But The Bike Rack wanted to offer the class not to its employees but to its customers–giving non-commuter cyclists a chance to ask questions and current bike commuters an opportunity to expose their friends to the idea in comfortable environment. We worked with them to be able to provide the class for free, and as a result, we may have created some new bike commuters! More than 20 curious bicyclists packed the bike shop and helped themselves to free wine and pizza provided by local pizzeria Pizza No. 17.
We want to thank Chuck and the rest of The Bike Rack staff for inviting us out to the shop and for giving us the opportunity to expand our bike education offerings, and for providing such a great event space!
But one class isn't enough…we want to extend this opportunity to other bike shops throughout the region. We want to give you the opportunity to bring your friends out so they can learn about bike commuting in a fun, easy way. So let your local bike shop know that you would be happy to see a class offered there. Let them know that they can get in touch with us to set it up.
And of course, our Bike Commuter Seminars are still available to employers as a great way to encourage bicycle commuting, provide a little education to your employees and make some headway on that "Bicycle Friendly Business" application…
Contact info for Bike Commuter Seminars:
Daniel Hoagland
202-518-0524 x200
daniel@waba.org