A Complete Guide to DC's 1st Annual Tour de Fat

NEXT SATURDAY, June 16th
, The New Belgium Brewing Company, makers of Fat Tire Ale, and WABA are hosting the biggest, most fanciful, bicycle celebration of all time. And for the first time ever it's coming to DC! We're going to celebrate bikes, make some new friends, and sip on a couple of cold, Rocky Mountain barley pops–all in the name of local bike advocacy!
The Tour de Fat benefits WABA, MORE (Mid-Atlantic Offroad Enthusiasts), Black Women Bike DC, and FABB (Fairfax Advocates for Better Bicycling).
Before the big day we want to make sure you know all the event details so that you and your friends come prepared, because a) you can't miss this, and b) you must come prepared.

Vital Details
WHEN:
Saturday, June 16th, 9am – 4pm
WHERE
: The Yards Park
COST

:
FREE with $5 suggested donation
REGISTRATION

:
on-site
SCHEDULE: 9:00am – Parade Registration 9:00am – Free Bike Valet 10:00am – Bike Parade 11:00am –  Main Stage 12:00pm – Slide Show 12:00pm – Slow Ride 1:30pm –  Bike Trade 3:30pm – De Finale!
How to Get to the Tour de Fat
WITH OLD FRIENDS:
By bicycle, of course! The Yards park is located at 10 Water St. SE, Washington, DC near the National's Stadium. . For those traveling from far and away, it is advised that you find parking far from Yards Park. Parking in the area will be extremely limited due to the Yankees/National's baseball game.
WITH  NEW FRIENDS:
 A number of local shops and organizations are leading convoy rides down to the park. We will update this list as convoy information becomes available. – Alexandria BPAC: One-way group ride departing at 8:30am at St. Elmo's (2300 Mt Vernon Ave, 22301) RSVP to Bruce Dwyer,
oiubike@gmail.com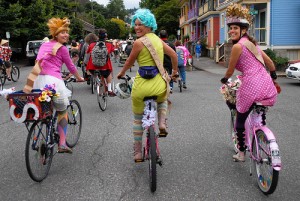 What to wear
For those who've never participated, this is indeed a COSTUME AFFAIR. Costumes are enthusiastically encouraged!!  For some inspiration,
check out this montage of photos from Tour de Fat's of yore
.
What to expect
The time of your life
PARADE
:  We will show off our rides and our bike pride by taking a short and slow cruise along the Anacostia Riverwalk Trail
FREE BIKE VALET:
No need to bring your heavy U-lock, the folks at MORE are providing safe and secure bike parking all day long.
MUSIC
: Featuring Mucca Pazza, Ian Cooke, and Yo-Yo People
GAMES
: We don't want to giveaway all the surprises, but we heard for one of the games, New Belgium's creative genius' constructed life-size Jenga. Yes, life-size.
BIKE PIT:
Imagine if instead of creating candy, Willy Wonka created bicycles.
PERFORMANCES:
Le Tigre's whimsical ways will woo us all day long.
How to prepare
Start mixing up your papier-mâché pulp, pull out that tutu from your college years, give your bike a quick tune-up, and invite your friends to the biggest bike festival DC has ever seen.