Summer Bike Education this Saturday (7/28) in DC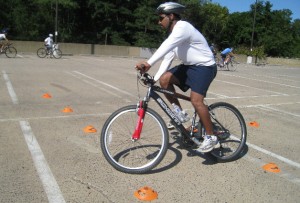 Register now for the next Confident City Cycling class, this Saturday, July 28th!
If you're a fan of WABA's Bike Education program, you may have noticed that our calendar has been pretty empty this summer. Well, that's all about to change. We're excited to announce
a new Confident City Cycling class this Saturday, July 28th
, at 10:00 AM right in the heart of downtown DC. If you haven't experienced our Confident City Cycling class, this is a fantastic opportunity to learn some skills and practice your riding technique with our team of top-notch bike educators and instructors. And if you enjoyed our Confident City Cycling class earlier this year,
why not tell a friend to come out and join us
? But we're not stopping with just one new class…many more classes are coming for the fall 2012 season! You should probably
subscribe to our google calendar to stay up-to-date
! Want to get the latest class schedule by email?
Sign up for Event Hub here
, the latest calendar is at the end of every email.
Class details:
Date:
July 28th
Time:
10:00 AM – 1:00 PM
Location:
The Ellipse, 15th St. & Constitution Ave. NW, Washington, DC 20230
You can reserve a spot in the class for just $10
, or you can take your chances and show up on Saturday for FREE as a walk-on. Walk-ons are limited to the first 10 people who arrive for a class and are not on the official attendee list. You are responsible for providing your own bike and helmet, and you might want to consider water, sunscreen, and maybe a snack. If you have any questions, please email
safetyed@waba.org
or call 202-518-0524 x212
What is a Confident City Cycling class?
Confident City Cycling (CCC) classes have options for riders of any experience or skill level, and are designed to teach the techniques and knowledge critical to riding safely on city streets. After a short introduction/review of basic concepts, the class will be divided into two groups: a beginner or
"Trails"
group, and an intermediate or
"Traffic"
group. The "Trails" group will discover basic bicycling concepts and on-bike skills such as: bike sizing and fit, helmet fit, pre-ride bike check, and bike vocabulary. On the bikes, drills will focus on bike handling basics: starting and stopping, riding in a straight line, scanning, shifting gears, and use of hand signals. This group will end with a short ride on a nearby trail to put everything into practice and to learn trail etiquette such as passing, signaling, and communication. The focus throughout is on
control
. If you've already taken the "Trails" section of a Confident City Cycling class, please come back and join us again for the "Traffic" section! The "Traffic" group will explore more involved bicycling concepts such as: vehicular cycling principles, roadway positioning, lane changes, turns, and communication with other road users. On-bike, the parking lot drills are a series of hazard avoidance maneuvers: rock dodge, quick stop, avoidance weave, and instant turn. This group will end with a short ride on local roads to put everything into practice and to experience truly confident city cycling. The focus throughout is on
visibility & predictability
.
On-line study is strongly recommended
prior to arriving at class by registering and completing the material on 
www.bikeed.org
. Participants must bring their own bikes, helmets, and water. Clipless/SPD shoes/pedals are 
not
 recommended for this class. Participants will be required to sign liability waivers. Sound fun? It is!
Come out and join us this Saturday!