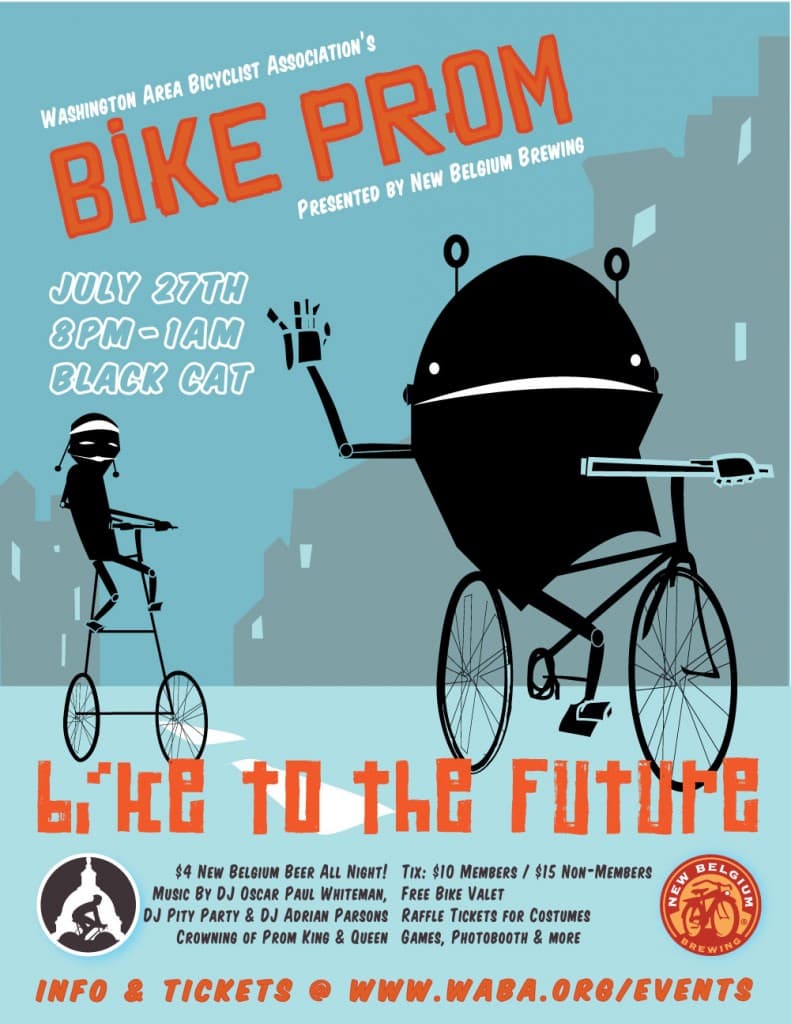 People of 2012, Greetings from the year 2112, cyclonauts. We're on a mission to get your circuits jamming and set your thrusters on overdrive. You, and only you, can help DC Bike to the Future! Join WABA for this year's Bike Prom, presented by New Belgium Brewing. This is your once-in-a-century opportunity to get intergalactic with cybernetic cycleborgs, stellar spokes-models, and parsecs of Plutonian pedalers! What are you waiting for? Invite, build, or beam down your  prom date(s), strap on a pair of SPD moon boots, and get ready to Bike…
to the Future!
All costumed bots and beings will receive one free raffle ticket. This could be your ticket to a New Belgium Cruiser bike or other sweet bike gear. This year's Bike Prom will feature musical appearances by 
Pity Party
, Oscar Paul Whiteman, and 
Jean Pierre Le Douche
. Plus free bike valet, games, the best awkward prom photos, and the crowning of Robo-Queen and Robo-King.
DATE
: Friday, July 27th
TIME
: Doors open at 9pm
LOCATION
: Black Cat main stage
TICKETS
: $10 WABA members/ $15 non-members
FACEBOOK
:
Spread the word

VOLUNTEER: All Bike Prom volunteers get in for free, and receive a free drink for bringing this event to life. Fill out this quick questionnaire to sign up to volunteer.