Bike Carnival & Car-Free Streets at St. Elizabeths East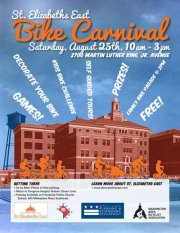 On August 25th, the streets of the St. Elizabeths will be opened to bicyclists, and the campus will be converted into a bike carnival for all ages. We are incredibly excited about this event, as it combines two rare happenings. First, the public is invited to tour the long-closed, historic St. Elizabeths campus. For years, security restrictions have made it nearly impossible to visit and see this amazing campus.  When occasional exceptions were made for tours they filled immediately (and of course they weren't for biking). Second, we almost never get the opportunity to use closed streets for a free event, in which we can invite kids, parents, and novice cyclists to come and enjoy their bikes in a car-free setting. When WABA was invited to use these car-free streets for biking our reaction was immediate: Yes! So we have mapped out two self-guided tour routes that are safe and family-friendly, and that will allow you to see as much of the historic campus is possible.  We will be marking those routes, so all you have to do is show up, pedal, and enjoy the views.  We'll have staff members and volunteers riding the routes as well to help with any issues and make sure things go smoothly.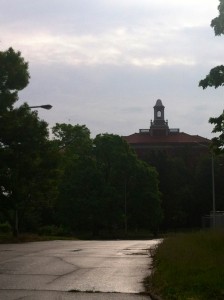 Meanwhile, at the main gate, we will have an assortment of bike-themed carnival games with prizes, a bike decoration station, a kids' bicycle skills course, plenty of giveaways, answers to all your questions about biking in the city, and much more. At 2pm we will raffle off a number of new bikes–both adult and youth models–to be given away to those in attendance, then we will kick off the first ever St. Elizabeths Bike Parade.  So be sure to get to the event in time to visit the bike decoration station to get your ride ready for the show.  I want to see hundreds of people, smiling and safe, riding car-free streets on decorated bikes, enjoying the opening of this space and the fun of being on a bike. Whether you live across the street from the campus or across the region, this is a unique event in a truly unique place.  Please mark your calendars,
RSVP on the Facebook page
so we know how many people to expect, and come join us at the carnival.  Bring your kids.   Bring your friends.  Especially bring your friends who are thinking about biking and need a safe place and a good reason to give it a try. Hope to see you there!
(If you have a bike, please bring it.  Remember, Metro allows bikes at all times on Saturdays.  We will have a rather limited number of bikes available for use on a first-come, first-served basis.  But there won't be enough for everyone.)