Refer-a-Friend to Join WABA During the Membership Drive & Win Cool Bike Prizes!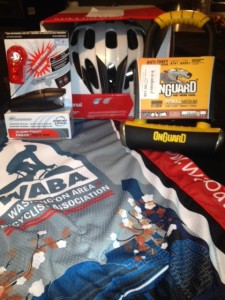 During this week's Fall Membership Drive, we have been asking WABA members to support us by referring-a-friend to join WABA.
If every WABA member refers just one co-worker, friend, family member, or fellow bike commuter to
join
, our reach will be twice as big! That's two times as many people working to ensure bicyclists' needs are represented. We all benefit when this happens. To convey our appreciation, we will be
entering each referrer into a drawing for cool bike prizes
. Thanks to our friends at
City Bikes
,
we will be giving away a Specialized helmet, OnGuard Pitbull bike lock, and Planet Bike Blaze Superflash light set
. In addition,
our top five referrers will receive a free 1-year WABA membership or membership extension
.
Use this customizable, "refer-a-friend" email to refer up to 20 friends to join.
Feel free to change or personalize the message, but remember to leave the
join link
so they can receive
1-year individual and 1-year family discounted memberships ($10 off)
. Just make certain your friends fill in your name (in the "referred by a friend" field) when they join so you can get credit. Not a member? You can still
refer-a-friend
. Or
join
yourself!