Pennsylvania Ave. Bike Facilities to Disappear During Pre-Inauguration Resurfacing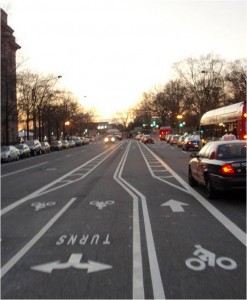 With the Presidential election behind us, DC now begins to prepare for another inauguration and parade. As before every inauguration, Pennsylvania Avenue between the White House and the Capitol will be resurfaced in advance of the parade. In a meeting with DDOT officials today, we were informed that:
Resurfacing is likely to begin on or about Tuesday, 11/13, and last about two weeks.
The cycletrack will be re-striped as part of the project.
The newly striped cycletrack will include several improvements, including additional space to accommodate turning/waiting bicyclists at the intersections with 15th St. NW and 4th St. NW.
The plastic bollards will not be returned immediately, as they are generally removed in winter to enable snowplowing equipment the ability to clear the street and the cycletrack.
When the bollards are replaced, they will have new bases that will be flush with the road surface, which should make the whole removal/replacement process easier in the future.
We had hoped that this resurfacing would provide an opportunity to address some of the larger safety issues–especially those related to illegal, dangerous, and all too frequent U-turns across the bike facilities. We have reached out to the Commission of Fine Arts in an attempt to open dialogue about their rejection of colored visual pavement marking but have not received a response to our inquiries yet. DDOT is also seeking to identify physical barriers that might prevent mid-block U-turns but allow for the political, maintenance, security, and other needs that–let's face it–make Pennsylvania Ave. a bit different. No suitable product meeting all the parameters has been identified in time for next week's resurfacing, but DDOT continues to seek solutions that might be implemented in the spring. For those who rely on the Pennsylvania Avenue cycletrack, you will still be able to travel on the unmarked street. While light timing will not be changed during the project, we cannot recommend continuing to ride in the center of the roadway during construction, so we encourage cyclists who wish to use Pennsylvania Avenue to ride in the right lane as you would any other road without a center cycletrack. For those who prefer a route with bicycle facilities, your best alternatives are the bike lanes on E St. NW & G St. NW. Other alternatives with little traffic might be Madison Dr. NW & Jefferson Dr. SW along the Mall. The 15th St. NW cycletrack between Pennsylvania Ave. NW & New York Ave. NW should not be affected.