A Successful Hains Point 100 and a Very Merry Match Grant
Yesterday's Hains Point 100 today, organized on the fly by WABA member Megan Jones, was a wonderful way to spend a chilly Sunday before Christmas. Megan, an absolute powerhouse who committed to riding a century around Hains Point to raise money for WABA's Women & Bikes program, finished around 4:30 p.m. with a total of 102 miles and 32 laps. Over 50 people kicked off the ride just after 10 a.m., and many more trickled in to check out the information tables and ride in circles for a bit. In total, 100 people rode throughout the day. Long-distance riders paced with casual cyclists, the wind scaled back its intensity, and while the temperature never quite warmed up, riding conditions and attitudes were sunny all around.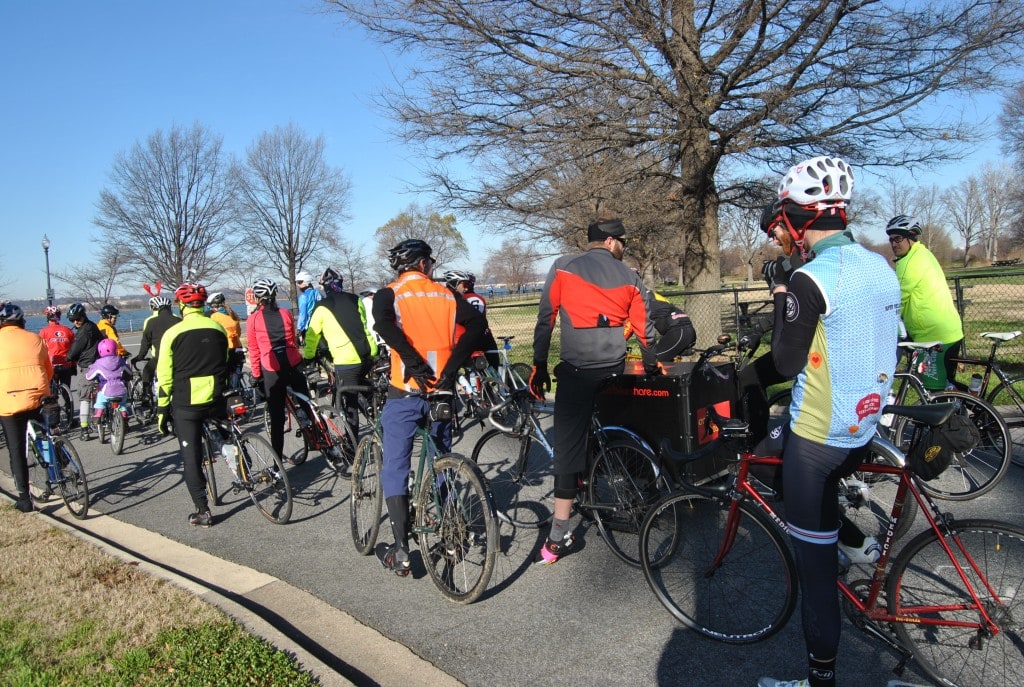 The Hains Point 100 raised over $1,500 for 
Women & Bikes
—and plenty of awareness. At the ride's start, the group appeared to be majority men, an accurate reflection of the gender breakdown of cycling. But plenty of women came out to ride; Outreach Coordinator Nelle Pierson was able to talk extensively to those interested about the program, which will officially launch in March. Donations and raffle prizes were generously provided by Revolution Cycles, the Bike Lane, Java Shack, BicycleSpace, and Bike Arlington, and ride attendees pitched in plenty of delicious snacks and baked goods. We'd like to thank Megan many times over for her enthusiasm and dedication to WABA and Women & Bikes, as well as those who
donated
to the Hains Point 100. Couldn't make it? Read Chasing Mailbox's writeup of the Hains Point 100
here
, and check out
some
photos
by other participants. Head over to the event's
Facebook page
 for miscellaneous pictures, memories, and comments (or to share your own!). If you haven't yet donated to Women & Bikes, your contribution can still make an incredible difference.
Thanks a generous program supporter, donations to the WABA Women & Bikes Program through the end of the year will be matched up to a total of $4,000.
If you're interested in donating, please do so here.
About $550 of the money raised from the Hains Point 100 will be matched by the aforementioned grant. We'll keep you updated on the progress of donations here, on
Facebook
, and on
Twitter
throughout the week. We'd love it if you considered donating before the end of 2012 to help us get more D.C.-area women on bikes.