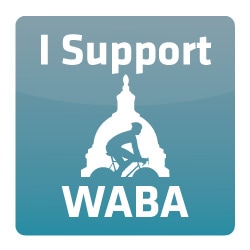 WABA is looking for leaders with a passion to help ensure our ability to continue making the Washington area a safer and more welcoming environment for cyclists. WABA's Board Nominating Committee is searching for director candidates with strong leadership skills and experience in helping non-profit organizations develop and execute strategy and development plans.
While WABA has loyal members and a dedicated funding base, we have a particular interest in candidates who can help us expand our partnerships with a broader pool of organizations and individuals who share and will support WABA's goal of making the Washington area the most bicycle friendly in the world. Direct experience with institutional giving and major gifts a plus.
WABA board members are volunteers who serve two year terms and are expected to participate in regularly scheduled board meetings, provide counsel to WABA staff in
their areas of expertise, and make WABA a significant part of their individual philanthropy. Candidates who are interested in exploring whether their skills and interests align with WABA's are invited to make an initial expression of interest by filling out the form HERE.