Mayor Gray Officially Opens the L Street Cycletrack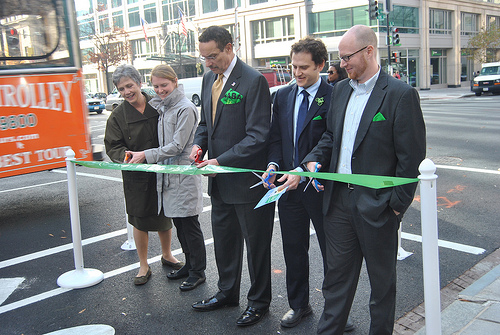 Mayor Vince Gray cut the ribbon on the L Street Protected Bike Lane today,
officially opening
D.C.'s newest stretch of dedicated cycling infrastructure. Among those in attendance at the ribbon-cutting ceremony were Gray; DDOT's Jim Sebastian, John Lisle, Sam Zimbabwe, and Mike Goodno; Downtown D.C. BID Director Ellen Jones; and about forty cyclists and interested individuals from around the region. WABA staff handed out
green, hand-printed bandanas
to attendees. The one-mile L Street Protected Bike Lane runs from New Hampshire Avenue to 12th Street NW. After a year and a half of
delays
, it's open for cyclists traveling eastward across downtown, making accessible a heavily trafficked area of the city.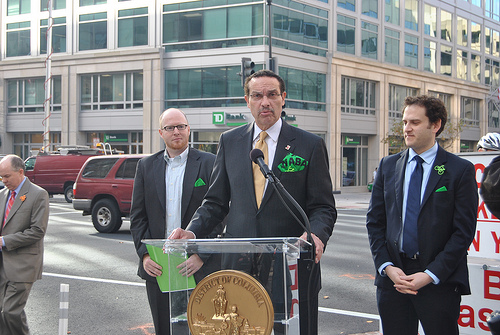 Mayor Gray extolled the virtues of the bike lane—a safe, visible route exclusively for cyclists, separated from car traffic by bollards and set off with green paint, that would encourage more people to get on bikes—and said that such pieces of infrastructure are critical to D.C.'s growth. Cars, he explained, will take up too much space in a D.C. that could soon be home to over 800,000 residents. And, referring to a problem that's plagued the lane since its lines were painted, Gray firmly assured the crowd, "I want to underscore also that people can no longer park in the bike lanes." Dedicated bike infrastructure, like the lanes on 15th Street NW, Pennsylvania Avenue, and now L Street NW, makes riding a bike appealing to those who might not otherwise consider it. Three mayoral administrations have worked on the completion of the L Street lane, and that it's come to fruition demonstrates D.C.'s commitment to becoming a place that prioritizes bike-friendliness and safety.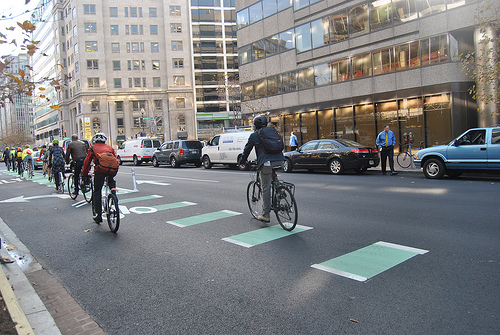 Many thanks to DDOT, the Gray administration, the Downtown D.C. BID, and local advocates, neighborhood groups, and planners for making the L Street Protected Bike Lane a reality! See more photos from the ribbon-cutting, and the celebratory ride on L Street that followed, 
here
.