Download Our App and Come to Our Advocacy Open House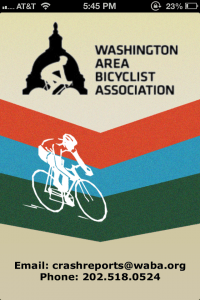 We announced via email and Twitter last night that we've got a smartphone app. It's available for
iPhone
and
Android
. Download it and use it with abandon! You can track crashes, input personal information, and access the D.C. bike laws. Then, come to Red Derby on Tues., Feb. 5 to celebrate the app's launch. From 5 to 8 p.m., hang out with WABA staff, members, and friends, and enjoy half-priced tacos and $1 off all drinks. (Happy-hour deals will extend past 8 p.m. for the occasion).
RSVP on Facebook
. Since this is the first the app's been made public, we expect that there will be some bugs. Please let us know what they are (screenshots are great!) and what kind of phone you're using. We'll let you know when an update is available.
—
Additionally, join us tonight from 5:30 to 8:30 p.m. in our Adams Morgan office at 2599 Ontario Road NW to learn how you can advocate for better bicycling as the region moves forward with new planning initiatives. The District, Maryland, and Virginia are all considering policies that will impact cyclists, and we want to help you make your voice heard. You don't have to be a professional advocate or consider yourself a frequent attendee of public meetings–this is a great opportunity to get an update on what's going on that we hope will make you feel empowered to get involved. Sign up for the open house 
here
. If you're unable to attend in person, we'll have a conference call starting at 7 p.m. You can phone in at (610) 214-0000 and enter 334683# when prompted for an access code. We'll see you, or hear from you, tonight!