Mark Your Calendar: Bike Ambassador Training, Plus Transpo Changes in D.C. and Maryland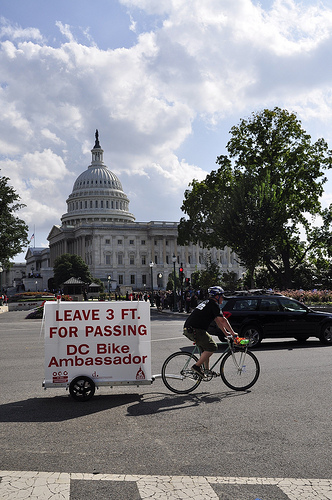 A few things are coming up at our office: Tomorrow night, Tues., Jan. 15,
be trained
to be a D.C. bike ambassador. Bike ambassadors reach out to and educate cyclists, pedestrians, and drivers about what it means to ride a bike in the D.C. area. To learn more about what bike ambassadors do and how the program spreads the good word of bicycling, click
here
. Sign up for bike ambassador orientation
here
. It'll run from 6:30 to 7:30 p.m. On Wed., Jan. 23, we'll host an open house to talk about
major transportation planing processe
s
that are about to get underway in D.C. and Maryland. The District's MoveDC is the city's first master transportation plan, and the state of Maryland is updating its bicycle and pedestrian master plan. Come to the WABA office from 5:30 to 8:30 p.m. to get an understanding of what the plans will mean for cyclists and learn how to testify or present at public meetings. You'll get to meet fellow cyclists and discuss relevant talking points. Please sign up for the open house
here
. Our Adams Morgan office is located at 2599 Ontario Road NW.