We Want You to Be a Bike Ambassador!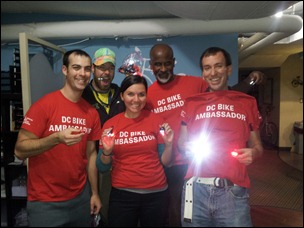 Do you love bikes? Are you interested in educating others and sharing your passion? Consider volunteering as a bike ambassador! You're invited to attend the new bike ambassador orientation next Tuesday evening at WABA's office. If all of the above—plus, pulling a trailer and explaining to others the virtues of cycling as transportation—sounds like an awesome time, you should
sign up here
. At orientation, you will:
Learn what, exactly, a bike ambassador does, and how you can do it, too
Learn about the goals of the bike ambassador program
Sign up for upcoming events and opportunities
Plug into your local bike advocacy group (that's WABA!)
Make new biking friends and expand your community network
Learn more about being a bike ambassador
here
, and
sign up
for orientation today! We look forward to teaching you the ways of ambassadorship. Orientation is next Tuesday, Jan. 15, from 6:30 p.m. to 7:30 p.m. at WABA's office, 2599 Ontario Road NW. For more information, contact the Bike Ambassador Program Coordinator, Megan McCarty, at dcba@waba.org or (202) 518-0525 x200.