We've Got Business Members. Get to Know Them!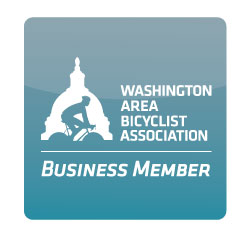 Last week we
announced
WABA's new
Business Membership program
, and mentioned the first five businesses to get involved. Today, let us give you a more in-depth look at what the businesses that have joined up with us have to offer.
VeloCity Bicycle Cooperative
is a non-profit, volunteer-run, do-it-yourself bicycle workshop in Alexandria. It offers trainings, rides, and events to empower and educate area bicyclists through building, maintaining, and embracing the fun of riding a bike. VeloCity actively sought us out for a business membership and quickly became our first member.
Bike and Roll
is a bike rental, repair, and touring company with locations in D.C. and Alexandria. It provides hourly and full-day bike rentals, guided bike tours, and bicycle repair and maintenance. A long time supporter of WABA, Bike and Roll has frequently donated its bikes for use at WABA events and classes.
Ecoprint
is an environmentally responsible printing company in Silver Spring that uses a 100 percent carbon-neutral printing processes—Ecoprint was "eco" before it was cool. The company has printed WABA's newsletter and direct mailings for many years and has helped us raise awareness of bicycling issues in an environmentally friendly manner.
KGP Design Studios, LLC
is a design firm providing architecture, urban design, and transit planning services. It has been a leader in the livable cities movement, designing premier bicycle facilities including the Union Station Bicycle Transit Center (which is operated by
Bike and Roll
).
The Motley Fool
is a multimedia financial-services company that provides financial solutions for all kinds of investors. Committed to cultivating bicycling as a viable transportation option for its staff, The Motley Fool brought in WABA for an employee-based bike commuter seminar in 2011. A big welcome and thanks to our business members for making our
business membership program
successful! If you're interested in becoming a business member, learn more about the program
here
.