We've Got New Business Members!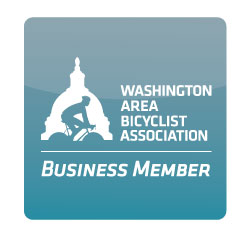 Recently, we introduced
the businesses that helped WABA launch our
Business Membership program
. Today, we welcome our newest business members! Here's a little bit about what they have to offer and what they do to encourage cycling.
Capitol Hill Bikes
is a full-service, women-owned bike shop in Capitol Hill. Since 2000, it has been working to provide a warm, welcoming environment for cyclists of all ages and skill levels to shop, learn, and experience the joy of cycling. Committed to educating cyclists, Capitol Hill Bikes offers fix-a-flat classes on the first and third Saturday of the month.
Qualia Coffee
is a D.C. coffee shop and home of
Fresh Off the Roast
, a small-batch coffee roasting company. Qualia is bike-friendly: In 2011, it worked with WABA and DDOT to get bike racks installed out front of its Georgia Avenue location, ensuring that bicycle parking was available for their customers. Qualia also provided the initial home and incubation space for
The Bike House
, a community-based bike cooperative.
The Strong Law Firm
is a Falls Church-based law firm that specializes in mortgage, traffic, personal injury, and bankruptcy clients. It is dedicated to defending the rights of all road users, including bike riders and pedestrians who are often given the short end of the legal stick. A big welcome and thanks to our newest business members! If you're interested in becoming a business member, learn more about the program
here
.