Welcome to Our Newest Business Members!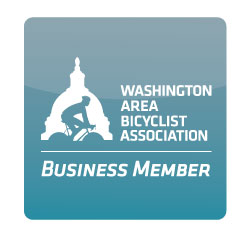 In January, WABA launched our
business membership program
. Today, we are excited to introduce our newest business members, three companies dedicated to promoting bicycling, each in their own way.
Alta Planning + Design
is a planning consultancy firm headquartered in Portland, Ore. It specializes in sustainable transportation and recreation planning and design, with a strong bike and pedestrian focus. Alta has had a hand in creating many of the bicycle-friendly communities, trails, and green spaces enjoyed throughout the U.S.
Alta Bicycle Share
, which is behind
Capital Bikeshare
and many other urban bikesharing systems, is a subsidiary of Alta Planning + Design.
Filter Coffeehouse
is a D.C. coffee shop with locations in Dupont and Foggy Bottom. In 2010, Filter's owner, Rasheed, had two
custom bike racks
(in the shape of a hot cup of coffee and a French press) installed outside his Dupont coffeehouse, ensuring his customers would have a dedicated place to park their bikes. An active cyclist himself, Rasheed can often be found at the head of the pack on WABA rides.
Primal Wear
is a cycling apparel company based in Denver, Colorado. It designs and manufactures high quality cycling jerseys, T-shirts, outwear, and accessories, including the awesome limited edition jerseys custom-made for our 2012 Climate Riders. Committed to helping the cycling community grow through advocacy and education,
Primal Wear supports fellow bike advocacy organizations
in addition to charity rides and youth education programs. A big welcome and thanks to our newest business members! Read up about our other business members
here
and
here
. If you're interested in becoming a business member, learn more about the program
here
.