BikeFest Is Coming. Here's Why You Should Attend!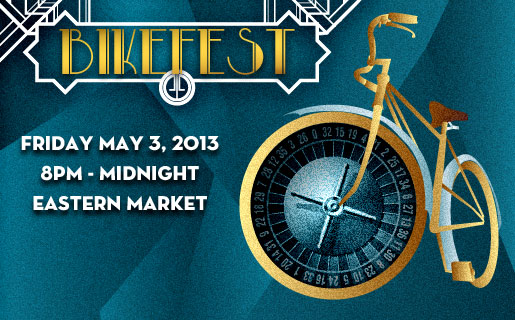 BikeFest
, WABA's signature yearly fundraiser and celebration of bicycling, is May 3. Tickets are $45 for members and $55 for nonmembers (members, you should've received your discount code via email). Your attendance at BikeFest supports WABA's advocacy efforts, of course. But here are four more reasons why you should buy a ticket.
You dig live music
The Atomic Swing Club will be providing hip, jazzy tunes all night. The five-piece—horns, trombone, saxophone, guitar, and keys—will play a mix of swing, big-band, jazz, and rockabilly standards.
You can role dice and bluff like a pro
For the first time, BikeFest will have table games. If Rick's Cafe in Casablanca is a bit too bygone, then this is the place to warm up your gambling hands. Dealers Choice Casinos will be providing professional dealers and real casino tables; we'll have blackjack, roulette, craps, and poker. As you stack up your chips, you'll be able to trade them in to win some neat bicycle-themed raffle prizes.
You like to eat and drink and party
A BikeFest ticket includes a buffet of hors d'oeuvres—Chipotle style! Chipotle Mexican Grill is generously providing food for the evening, so come ready to snack on custom-made tacos taco salads. And of course, the bars will be stocked with beer, wine, and a few specialty mixed drinks to quench your thirst.
You seriously love riding your bike
Nothing is better than partying in the name of bicycles. BikeFest is our one chance every year to throw a celebration just for that reason. We hope that WABA members and supporters will come out to have fun, mingle with other cyclists, and indulge in the glamor of the night's speakeasy theme. Your BikeFest attendance supports our advocacy, education, and outreach efforts, and it won't be nearly as fun without you there!
Tickets are on sale now! Buy yours before BikeFest sells out!
BikeFest is made possible by our generous sponsors