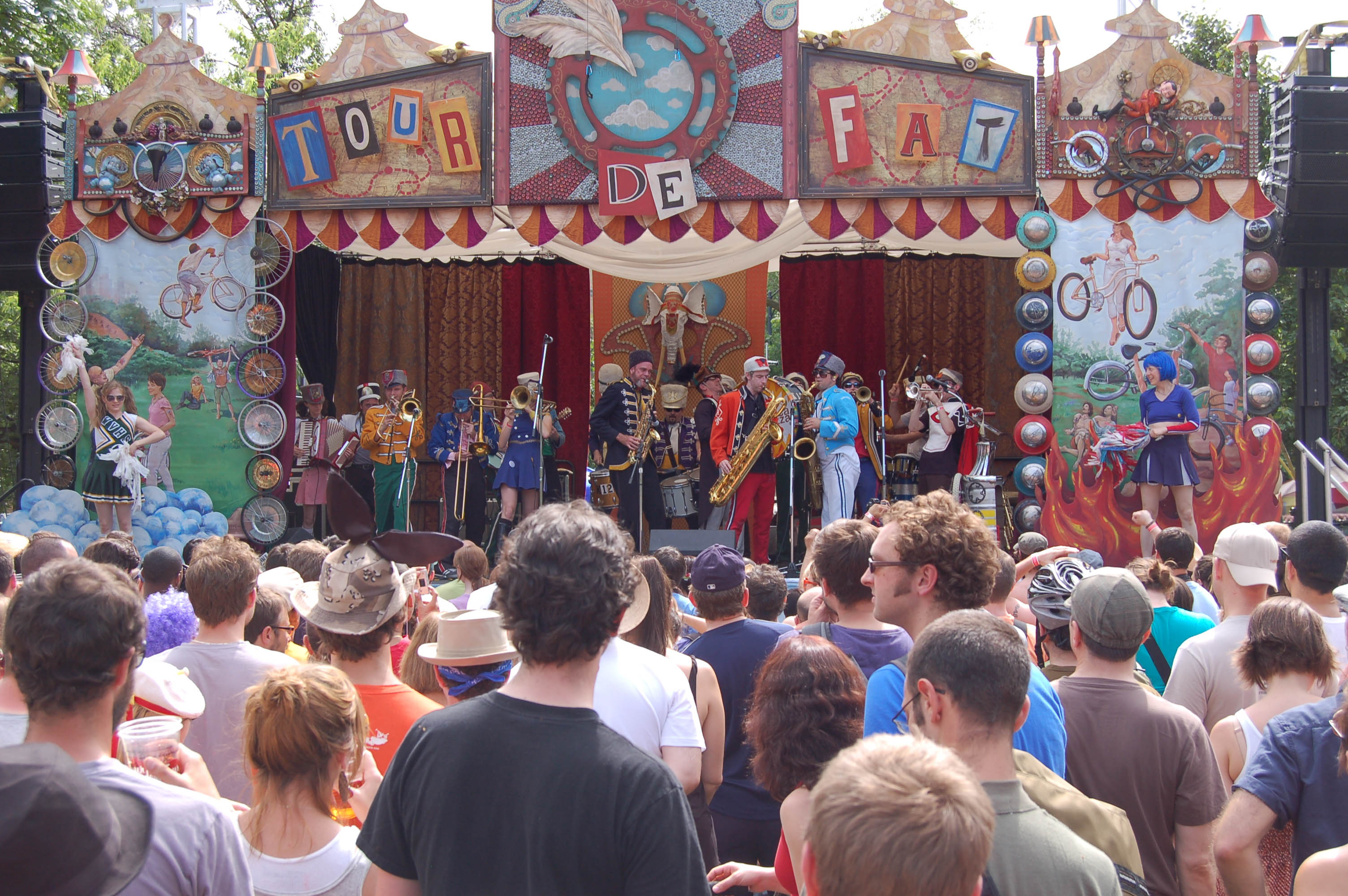 New Belgium Brewing, a friend of WABA and sponsor of the yearly Tour de Fat bicycle parade and celebration, is hosting its first-ever bike summit. WABA's advocacy coordinator, Greg Billing, and outreach coordinator, Nelle Pierson, will present at the summit, which begins today and runs through the weekend in Fort Collins, Colo. Nelle will focus on the inception of WABA's Women & Bicycles program, which is now fully underway.
Read a press release from New Belgium on the summit below the jump.
New Belgium Brewing to Host Inaugural Bike Summit This Week
Three-Day Event Brings Together Nonprofit Champions from Across the
Country to Discuss Bike Advocacy, Hot Topics and Best Practices
Ft. Collins, CO, April 9, 2013 – For the first time ever, New Belgium Brewing, maker of
Fat Tire Amber Ale and a wide variety of award-winning beers, will host a bike summit
at its Ft. Collins brewery. The summit, which will be held April 11-13, will bring together
65 people from more than 40 bicycle nonprofit organizations across the country. The
summit will foster discussions about the good work of bike advocacy, while focusing
on the political, environmental and fun reasons for enjoying the two-wheeled lifestyle.
The three-day summit will include presentations from nearly two dozen of biking's best,
including David "DK" Kemp, former Ft. Collins Bicycle Coordinator and current Active
Transportation Coordinator in Davis, CA; Maribeth Gallion with L.A.'s Bicycle Kitchen;
Bike Denver's Piep van Heuven; Alex Wilson from West Town Bikes in Chicago and
Jodie Medeiros from the San Francisco Bicycle Coalition.
Location:
New Belgium Brewing
500 Linden Street, Ft. Collins
Session topics include:
• Nonprofit Membership
• Protecting bicyclists
• How to be stewards of change
• Building bike advocates
• Making the most of New Belgium bike partnerships
New Belgium Brewing has long been a passionate advocate of bike advocacy. It's
traveling festival Tour de Fat has raised more than $2 million for biking nonprofits and
last year alone raised more than $500,000, the most money ever generated in one
season. In addition, New Belgium's Clips Beer and Film Festival has raised more than
$200,000, with much of that also going to bike nonprofits. To foster the love of biking,
New Belgium's co-workers receive a custom bike at their one-year anniversary.
For a complete schedule and to learn more about the bike summit, contact Michael Craft
at mcraft@newbelgium.com.
About New Belgium Brewing Company
New Belgium Brewing, makers of Fat Tire Amber Ale and a host of Belgian-inspired
beers, is recognized as one of Outside Magazine's Best Places to Work and one of the
Wall Street Journal's Best Small Businesses. The 100 percent employee owned brewery
is a Platinum-level Bicycle Friendly Business as designated by the League of American
Bicyclists, and one of World Blu's most democratic U.S. businesses. In addition to Fat
Tire, New Belgium brews eight year round beers; Ranger IPA, Rampant Imperial IPA,
Shift Pale Lager, Sunshine Wheat, 1554 Black Ale, Blue Paddle Pilsener, Abbey Belgian
Ale and Trippel. Learn more at www.newbelgium.com.