Meet the Bike Ambassadors! Part II
The
D.C. Bike Ambassador outreach program
relies heavily on the support of committed volunteers working to make bicycling safe and accessible for everyone in D.C. There are currently around 150 trained bike ambassadors riding through the District acting as role models in their community. To put a face to our team, we are showcasing a few ambassadors who have gone above and beyond in volunteering their time, skills, and ideas to improve the program. Each of our featured volunteers has helped to extend our reach, forge new partnerships, and present bicycling in new and exciting ways. Our superstar ambassadors are helping make D.C. a more bike-friendly city. Check out the ambassadors we introduced last month
here
.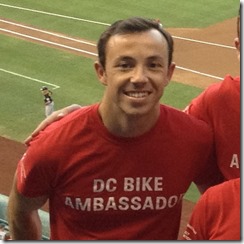 Michael Murray, bike ambassador since  January 2013
While I first went car-free when I moved to Chicago in 2009, I only began using my bike as my primary mode of transportation when I moved to D.C. in 2011. Thanks to the great advocacy work done by WABA , the District has done a great job to make cyclists feel safe. These improvements encourage many would-be cyclists to finally give biking a try. Like many other riders, I found that biking in D.C. was the most convenient and affordable way around the city, no matter where I was going. There are people in every neighborhood in the city who are interested in riding, but many are not sure where to begin. The Bike Ambassador program is great way to provide encouragement, support and necessary information as they get started. Introducing more people to biking will put more cyclists on our streets, making it safer for all users. Biking is naturally a social activity. Encouraging more people to ride is a great way to make new friends and make D.C. a better place to call home.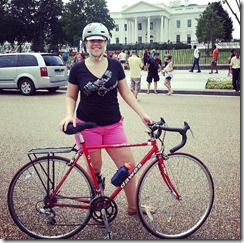 Alex Zuckerman, bike ambassador since June 2013 
There's a reason the phrase "it's like riding a bicycle" is a cliché: Most people begin riding a bike as a kid around the neighborhood. I'm no different. For as long as I can remember I've known how to ride a bike, but it wasn't until I moved to Syracuse, N.Y. for college that I started using one for transportation. Out of convenience and speed in my junior year of college, I began biking to class. In those days I had a rugged mountain bike to trek through Syracuse's weather. Living in D.C. allows for a sleeker bike, so I've since transitioned to a hybrid that's perfect for getting around town or for long trail rides. Just because I'm a bike ambassador doesn't mean I'm cycling expert. I still own a car, I love to walk around the city, and I take the bus to work most days. For me, part of being an ambassador is understanding the average city dweller. I've had success in getting friends to enjoy riding and pursue purchasing their own bike. For me, riding is mostly about the freedom it provides to run errands, meet friends for a drink, catch a show at the 9:30 Club, and get some exercise. It's important as a bike ambassador to help the average person understand that biking is both healthy and helpful. On a personal level, biking helps me to learn more about the city and the people who live here. The bike community is one of the friendliest I've met and I can't image being here without a bike, and the bikers who share these roads.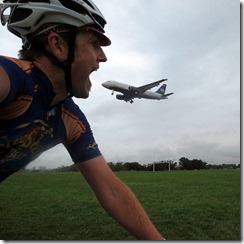 Pete Beers, bike ambassador since September 2012 
I started riding a bike when I was 6 years old. Mom thought I didn't know how to use the brakes because I never stopped.  I knew how, I just didn't ever want to slow down. Forty-two years later, things haven't really changed much. Saying that a bike was the source for freedom has almost become cliché. In my case, it truly was.  Mom was working to keep the family together. I wanted to go places. I did! Starting my riding so young and never stopping made it so I have virtually no barriers to my riding. I like doing what I can to help others find ways to overcome the barriers they encounter. It is empowering to everyone. So often the things we face as cyclists in the city are confrontational. Interactions with vehicles and pedestrians are not always harmonious. It is easy to let the negative overshadow the sense of joy that we all get by moving through our day on two wheels. Being a WABA Bike Ambassador is all about turning the tables on that.  My goal every time I turn a pedal is to have positive interactions with everyone I encounter—even those who are not positive with me. That is the best weapon against confrontation and negativity.  If I can make someone smile on their ride or drive or by seeing a photo of me doing something goofy on a bicycle, then my day is complete. Building a sense of community with cyclists is the best way to make people's riding experiences positive. People have questions, problems or flat tires. Being an active part of a cycling community lets me help people with all of those– whether in person or via the Washington Area Bicycle Forums.  (My name is Dirt on the forum. Stop by and say "hi" sometime: 
www.
washingtonareabikeforum
.com/
) Why do I love being a WABA Bike Ambassador? I became a bike ambassador at the age of 6. Things changed when I went pro with it for WABA. It opened me up to this amazing group of people who feel like I do and give so much of themselves to make our area a better place to ride a bicycle. Get involved with this community.  It is one of the best things I ever did!
Interested in getting involved with the Bike Ambassador program? Our next orientation session is Tues., Aug. 20th from 6:30-7:30 p.m. at the WABA office. Contact Megan McCarty, the D.C. Bike Ambassador program coordinator, at megan.mccarty@waba.org for more details.