Volunteer for 50 States!
Our signature ride event of the year, the 50 States and 13 Colonies ride, is on Sat., Sept. 21, and we need your help to pull it off. Please consider volunteering for one (or several!) of the opportunities below. WABA is grateful to have such amazing volunteers like you who make our events the best they can be.
1. 50 States Prep Volunteer Night: this Wednesday, Sept 11th from 6:30-8:30pm
We need your help to get ready for 50 States! Do you have an eye for detail and can help mark an intricate route on huge D.C. bike maps? Are you handy at clipping, crafting, painting, and assembling? Maybe you're just a fan of bicycling and meeting fellow volunteers. Either way, prepping for 50 States requires all hands on deck. Come to the WABA office (2599 Ontario Road) on Wed., Sept. 11 from 6:30 to 8:30 p.m. We'll give you beer and snacks, and you'll have a great time—promise!
Please RSVP here.
2. Join the WABA Street Team!
For the first time ever, WABA is getting together a street team. Its
 first mission: hanging posters for the 50 States afterparty all over town.
We are looking for people who can help us spread the word about future WABA events and happenings. We want you to hang posters every which way, flood your social networks with information about future WABA happenings, and more. You'll get special access to future WABA events (remember: our awesome rides always sell out), and can expect to meet your fellow street-team volunteers at happy hours. Interested?
Sign up here.
We'll be releasing street team members on their first mission this week, so plan to be available right away!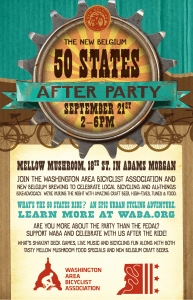 3. Help us run the 50 States event itself! Volunteer at one of the pit stops or the after party:
We are seeking friendly, fun loving, and adventurous volunteers who can work the start location of the ride, a pit stop along the way, or help make the after party an event to remember! Volunteer opportunities are all on Sat., Sept. 21, and times and locations around D.C. vary.
Get more info and sign up here.
4. Didn't get the chance to sign up for the 50 States ride?
Remember, it's sold out. But if you qualify to be a ride marshal—commit to following all traffic laws, will lead a group to navigate the ride, know how to fix a flat, and can help other riders in the event of an accident—sign up to marshal the ride and get your cue sheet, T-shirt, and lunch for free. This is a challenging, long, tiring 65-mile ride so you must have experience with that kind of distance. 
More information and sign-up forms can be found here.