Keep Our City Moving by Bike: Attend a MoveDC Meeting This Month
The U.S. Census just released data from its 2012 American Community Survey. One of the notable results? D.C. is biking a lot more.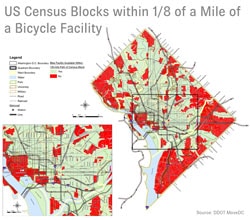 The bicycle commuter rate jumped from 3.2 percent in 2011 to 4.1 percent in 2012. That's a 28 percent increase in just one year. How did D.C. increase bike commuting by a full percentage point in such a short period of time? The city government made bicycling a transportation priority and followed through with it: There has been investment in 60-plus miles of bike lanes, a few miles cycle tracks, new trails, hundreds of bike racks, a full youth and adult education program, the launch of Capital Bikeshare, and much more. The 2005 Bicycle Master Plan set aggressive goals for the city, including an increase the rate of bicycle commuting from 1 percent in 2000 to 5 percent in 2015, as well as reducing crashes involving cars and bicycles. Now we need to think bigger. The District Department of Transportation is currently planning the next 20 years of transportation investments through a process called MoveDC. MoveDC, which we've blogged about before, is a technical multi-modal study and public engagement process to set the course for D.C.'s transportation future. The process began with a kickoff event in February, followed by one round of public meetings in April and another in June. The final round of public meetings will be in October. DDOT will present three general approaches to a future transportation system. The first approach is called "Stay the Course," which focuses on incremental changes and prioritizes keeping the system in a state of good repair. There is no new funding associated with this plan, and it assumes that current funding levels will stay constant. In this plan, 70 miles of sidepaths and trails, 60 miles of bike lanes, and three miles of cycletracks would be constructed by 2040. The second approach is dubbed "Get to the Center" and focuses on addressing downtown congestion for all modes: walking, biking, driving, and transit. "Get to the Center" assumes that if the issue of getting into and out of downtown is prioritized, congestion elsewhere in the city will ease. Under the "Get to the Center" plan, DDOT would build 46 miles of sidepaths and trails, 56 miles of cycletracks, and 57 miles of bike lanes by 2040. The third approach DDOT is proposing is called "Connect the Neighborhoods." In this plan, DDOT would focus on short-distance travel between neighborhoods with livability being primary driver of investment. The approach would work to increase connectivity, access, and efficiency of travel between neighborhoods and key destinations. For bicycling, DDOT proposes building 39 miles of sidepaths and trails, 74 miles of cycletracks, and 66 miles of bike lanes by 2040. Which is the best for bicyclists? Clearly, "Stay the Course" will get us more of the same: incremental change such as new bike lanes when a repaving project happens, cycletracks that stop and start, trails that take years to finish. A new approach is needed. DDOT's planning staff has presented two compelling ideas of how to tackle the transportation issues the city is facing. However, choosing between a focus on commuter traffic in and out of downtown or travel between neighborhoods is a false choice. D.C. has to address both issues while meeting the SustainableDC goal of 50 percent transit mode share and 25 percent walking and biking mode share. DDOT planners should be commended for presented aggressive goals for new bicycling facility goals to encourage new bicyclists. The final plan must be a hybrid approach that combines the best of both ideas. Get involved to make that kind of plan happen! There is one final round of public meetings in October to comment on these approaches. Please attend and express your support for bicycling. The dates for the meetings are below with links to RSVP with WABA. DDOT is also collecting feedback via an online survey tool called MetroQuest.
Please take 10 minutes and submit your feedback online
.
SESSION 1 (tentative) Mon., Oct. 21, 2013 8 a.m. to 5 p.m. Union Station 625 First St. NE Washington, D.C. 20002
Google Maps
RVSP for this meeting
SESSION 2 Tues., Oct. 22, 2013 6:30 p.m. to 8:30 p.m., presentation at 7 p.m. Benning Neighborhood Library 3935 Benning Road NE Washington, D.C. 20019
Google Maps
RVSP for this meeting
WEBINAR Thurs., Oct. 24, 2013 Noon to 1 p.m. Sign up via 
www.wemoveDC.org
 starting Oct. 10
SESSION 3 Sat., Oct. 26, 2013 1 p.m. to 4 p.m. DCUSA Retail Center Second floor between Target and Best Buy (near escalator and elevator) 3100 14th St. NW Washington, D.C. 20010
Google Maps
RVSP for this meeting
SESSION 4 Wed., Oct. 30, 2013 6:30 p.m. to 8:30 p.m. Presentation at 7 p.m. Petworth Neighborhood Library 4200 Kansas Ave., NW Washington, D.C. 20011
Google Maps
RSVP for this meeting
PARTICIPATE ONLINE, ANYTIME Oct. 1, 2013 through Oct. 30, 2013 Online: 
Launch MetroQuest