Meet the Bike Ambassador Team
We've previously introduced you to a few of our superstar bike-ambassador volunteers. Since then, the program has grown, and we've brought on part-time staff to better spread the word of bicycling in D.C. You might recognize Dani, Hamzat, and Pete, who have spent the past few weeks roaming the city with our big green bike trailers. Learn more about them below.
Dani Moore
My path to professional cycling zealot began innocuously enough. In 2006, I moved to Tempe, Arizona to attend Arizona State University. Like many Sun Devils, I discovered that the fastest and most pleasurable way to commute to campus was by bike. Every day I rolled 1.5 miles from my apartment to school. The habit was so engrained that I continued to commute by bicycle when I moved 1.5 miles farther away. Along the way, I made friends with other cyclists, and I found myself biking increasingly longer distances in their company. We biked to cupcake bakeries, hiking trailheads, and farmers markets in the Phoenix metro area. Before I knew it, I was embarking on incredible bike adventures – 65-, 75-, 125-mile rides through the Sonoran desert. In December 2012, I set out on my grandest bike adventure yet: a cross-country trip from Phoenix to Washington, D.C. Joining WABA was one of the first things I did after arriving in D.C. I believe everyone benefits when biking is a viable transportation option. I am eager to help more people discover the joy of cycling and to promote a vibrant, safe, inclusive, and enduring bicycle culture in the nation's capital. Meet the next two BAs, Hamzat and Pete, below the jump.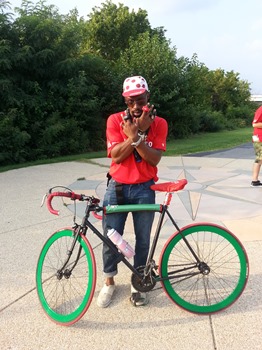 Hamzat Sani
For me it is and will always be bigger than bikes! I'm not simply interested in getting people to ride the beautifully crafted machines that are bicycles every and anywhere. My interest lies in the transformative nature of the bike for individuals, communities, and society as a whole. To see the world through the lens of biking for me has significantly impacted my growth and wellness. It brings me peace, it brings me sanity, it brings me community. I want others to experience this bliss and awareness that occurs when one pedals themselves to new destinations. It is a feeling like no other. Ever since finding the bike again a few years ago after neglecting its awesomeness for so long, I've been an ad hoc ambassador for cycling. Whether it was showing people that cycling could be a part of a your daily ritual without changes to your wardrobe or organizing rides in parts of the city not frequented by the masses, I've made it my business to show others just how easy it is to make biking a common occurrence in life that just happens to be the most fun you can have between your legs. Well, almost!
Pete Beers
I started riding a bike when I was 6 years old. Mom thought I didn't know how to use the brakes because I never stopped.  I knew how, I just didn't ever want to slow down. Forty-two years later, things haven't really changed much. Saying that a bike was the source for freedom has almost become cliché. In my case, it truly was.  Mom was working to keep the family together. I wanted to go places. I did! Starting my riding so young and never stopping made it so I have virtually no barriers to my riding. I like doing what I can to help others find ways to overcome the barriers they encounter. It is empowering to everyone. So often the things we face as cyclists in the city are confrontational. Interactions with vehicles and pedestrians are not always harmonious. It is easy to let the negative overshadow the sense of joy that we all get by moving through our day on two wheels. Being a WABA Bike Ambassador is all about turning the tables on that. My goal every time I turn a pedal is to have positive interactions with everyone I encounter—even those who are not positive with me. That is the best weapon against confrontation and negativity. If I can make someone smile on their ride or drive or by seeing a photo of me doing something goofy on a bicycle, then my day is complete. Building a sense of community with cyclists is the best way to make people's riding experiences positive. People have questions, problems or flat tires. Being an active part of a cycling community lets me help people with all of those– whether in person or via the Washington Area Bicycle Forums. (My name is Dirt on the forum. Stop by and say "hi" sometime: 
www.
washingtonareabikeforum
.com/
) Why do I love being a WABA Bike Ambassador? I became a bike ambassador at the age of 6. Things changed when I went pro with it for WABA. It opened me up to this amazing group of people who feel like I do and give so much of themselves to make our area a better place to ride a bicycle. Get involved with this community.  It is one of the best things I ever did!
Interested in getting involved with the Bike Ambassador program? Contact Megan McCarty, the D.C. Bike Ambassador program coordinator, at megan.mccarty@waba.org for more details.