Women & Bicycles Tip: Share Your Street Harassment Stories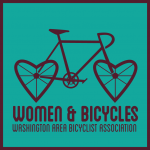 This entry is part of our Women & Bicycles Bi-Weekly Tips series. Women & Bicycles is WABA's outreach and encouragement initiative to build a stronger women's bike community and get more women on bikes. Click here to learn more and get involved.
Most women and woman-identified people have stories about gender-based street harassment experienced while walking—and while riding a bike. Whether it's cat-calling, pick-up lines, gestures, being followed, grabbed, or even chased down, street harassment is frighteningly common. If you're comfortable doing so, we encourage you to share your stories to help grow awareness and shape local initiatives to end street harassment. Submit your experiences to the Collective Action for Safe Spaces website, or tweet them to
@safespacesDC
. CASS, a local nonprofit working to end street harassment, wants to know how biking empowers you to navigate the frequent gender-based street harassment women and women-identified people in D.C. experience. According to a study by
Stop Street harassment
, 69 percent of women in D.C. avoid making eye contact in public because it may lead to street harassment, and 40 percent of women avoid being out alone. We constantly hear from Women & Bicycles participants about how bicycling makes them feel more safe and in control when it comes to street harassment—but we understand that riding a bike doesn't erase the potential of street harassment, either. Please
read
some of the stories CASS has collected so far, and share your own.
Tell CASS your stories about bicycling and street harassment.