Resources: Bike Route Planning
This blog post is part of a new series by our bike ambassadors. It's dedicated to presenting tips that will encourage new riders to get started. We'll link these posts on our Resources page, forming a library of tips for beginning cyclists.
Once you've
found the bike that works for you
, it's important to
ensure it's in working condition for riding
before venturing out onto the road. Now that you're all geared up, it's time to plan your two-wheeled tour—of D.C., Maryland, Virginia, or anywhere! Before mapping out your bike route, it can be helpful to consider your options. How comfortable are you riding in traffic? Do you prefer bike lanes and trails? How much time do you have to get to your destination? What time of day will you be riding? Do you want to avoid or tackle the hills?
Basic Route Planning
Google Maps
(both the desktop browser map and the smartphone app) has an option to select bicycling directions. Just as if you were trying to get driving or walking directions, simply type in the start and end locations and click the bicycle icon.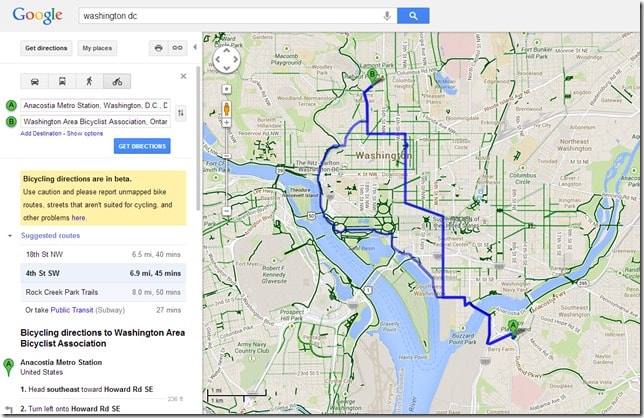 Often, there is more than one way to get from point A to point B. Dark solid green lines show separated bicycle facilities like
trails
or
cycle tracks
. Medium solid green lines indicate that street has a dedicated bicycle lane, but is not separated from traffic. Dotted green lines represent places in the city that are considered "bicycle routes" and/or have
sharrows
painted on them. Depending on personal comfort level, mileage, and timing, you could choose any number of different ways to get around D.C. While an electronic mapping function like Google Maps may produce the directions for the most direct route, it may mean riding on busy streets without any dedicated bike infrastructure.  Some riders may be comfortable taking the lane, but others may not. Getting to your destination via the most bike-friendly route may mean taking an indirect path on trails and side streets in order to avoid major thoroughfares.
D.C.-Area Trails
While the D.C. trail network is not complete, there are a number of connections to and from the city for commuting to work or getting your workout. Trails can provide a safe alternative for riders looking to get out of traffic or to those looking for a scenic weekend ride. In some cases, trails are the only real connection between destinations. Check out or
complete list of trails
in the D.C. region.
Multi-Modal Routes
Having the option to
hop on transit with your bicycle
is a handy one. Whether you get a flat, get caught in a blizzard, or are too tired ride, knowing your options for getting home can make it easier to decide to go by bike.
Metro:
Folding bikes are allowed on Metro Rail anytime during the usual hours of operation. Regular bikes are permitted at all times except for certain holidays and Monday-Friday rush hours, which are 7 a.m.-10 a.m. and 4 p.m.-7 p.m. Bicycles are permitted any time during the weekends. You must use the elevator with your bicycle.
Bus:
Every Metro Bus has two bike racks on the front of the bus. You can carry your bike on the front of the bus at any time with no additional charge. Learn
how to put your bike on the bus
.
Park and Ride:
Many of the area metro stations have bike racks or lockers on site. Check WMATA's website to find out if your station has these amenities. Consider bicycling from home to the Metro for your commute to save on parking costs! With over 200 stations in the region,
Capital Bikeshare
gives you the option of one-way, short bike trips. Check Bikeshare's
website
for details about how to join, and use the app SpotCycle to figure out which stations near you have available docks or bikes.
Paper Bike Maps
If your smartphone is dead or if electronic maps just aren't your thing, there are plenty of printed bicycle maps available for navigating your way through the city. Check out our
complete list of maps available
in the Maryland, Virginia, and the region, or stop by the WABA office to pick one up.
Friends and Forums
Pair up with a friend who bikes in your area and ride together. Talk to them about their favorite or fastest routes. If you don't have a trusted bicycle buddy, hop onto the
Washington Area Bike Forum
and ask other bicycle enthusiasts in the area. Everyday bike riders are an invaluable resource when it comes to finding out where the best places to bike are, where you'll find the biggest hills, and where to enjoy the best views of D.C.!
Remember:
Double check your bike route on a map before heading out!
Come prepared! Don't count on trails to be well lit or for bicycle routes to be well signed. Knowing ahead of time where you're going will save you frustrations later.
Leave extra time for new routes. Sure, there are times when getting lost can be a fun adventure, but not when you're running late!