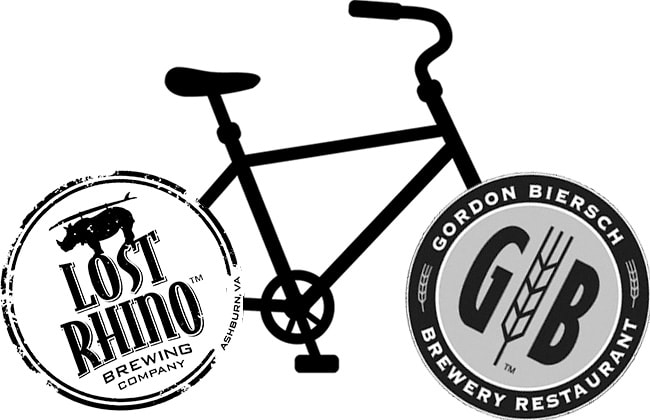 Join us for a fundraising happy hour at the Navy Yard Gordon Biersch on Wed., Jan. 29! Gordon Biersch and Ashburn's Lost Rhino Brewing Company collaborated on the D.C. area's first-ever "bike beer," and we can't wait to try it.
Gordon Biersch will be selling pints of the beer, named Gestalt (for the German word that indicates that the end result is greater than the sum of its parts—just like, you know, a bicycle). Pints are $5 during the happy hour and 100 percent of the proceeds will be donated to WABA. There will also be a raffle for some realllly cool stuff (raffle prizes listed at the bottom of the page!).
The event will take place from 5:30-8 p.m. at the Gordon Biersch in Navy Yard (100 M St. SE). Bike parking will be provided next to the restaurant. Please RSVP and invite your friends on Facebook.

Gestalt is a true bike-friendly, collaborative effort. WABA staffers joined up with Gordon Biersch's brewers to ride out to Lost Rhino (via the Mount Vernon, Custis, and W&OD trails) to pick up the yeast needed for the beer. The 65-mile round trip yielded an unfiltered, copper-colored altbier that's brewed with American Mount Hood hops and German whole leaf Spalt hops. It combines old- and new-world ingredients for a prominent hop flavor and crisp, continental finish; its 6 percent ABV.
Can't make it to the happy hour? You can still support WABA by drinking Gestalt! Gordon Biersch will donate $1 from every pint of Gestalt sold any day after our event until the batch runs out (that'll take about four weeks).
RSVP now! We'll see you at Gordon Biersch on Wed., Jan. 29.
Thank you to our generous sponsors Gordon Biersch Navy Yard & Lost Rhino Brewing for making this event possible.
Raffle prizes include:  Face Plant IPA bike jerseys from Lost Rhino Brewing, Frisbee Golf Discs from Lost Rhino Brewing, gift certificates to both Lost Rhino Brewing and Gordon Biersch Navy Yard, Pace Sportswear cycling caps, light sets from Planet Bike, a handcrafted bicycle clock from New York bicyclist/clock maker 1.by.Liz, bicycle themed t-shirts from local printers Clockwork Gears, light sets and a lock from knog, and a gift card for free bike tune up at City Bikes and a City Bikes jersey.
Cycle Hope of Annandale, VA, has also donated a Kryptonite Kryptolok U lock, a Topeak Trunkbag that sits atop your rear rack, a light set, and two Sunlite waterproof panniers. Cycle Hope specializes in used bicycle sales and repairs and is located at 7229 B Little River Turnpike in Annandale, VA and can be reached by phone at 703-752-0311. Visit them at dcvintagecycles.com