Introducing Ridescout, a WABA Business Member
We've recently introduced you to our business membership program. We debuted the program last year and are steadily signing up new business members into 2014. As part of the program, we'd like to introduce you to some of our business members. Today, meet Ridescout.
In the D.C. area, we have a lot of transportation options. Certainly we all love riding our bikes, but as multi-faceted people with busy lives, sometimes our transportation needs can be complicated. Smartphones do make things easier–but trying to compare multiple modes to find the best option can itself be a big time investment that requires numerous, unrelated apps. Enter
Ridescout
. Ridescout
aggregates all of your transportation choices
: check it for directions for your own bike (and number of calories burned!) or see nearby Bikeshare stations with available bikes.
Ridescout
 also compares Car2Go, taxis, Metrobus (with real-time arrivals), Metro, your own car, and Amtrak, factoring in time required, distance, and cost of each mode. Do you use Bikeshare or love someone who does? You can opt to receive notifications letting you know when your 30 minutes of riding time is almost up, and if the Bikeshare station closest to your destination fills up. To avoid "dock block," RideScout will reroute you to the next closest station and tell you how long it takes to get there. Ridescout has recently launched a full Android release and now all features are available for iPhones and Androids. Download the Ridescout app in the
App Store
or the
Google Play Store
.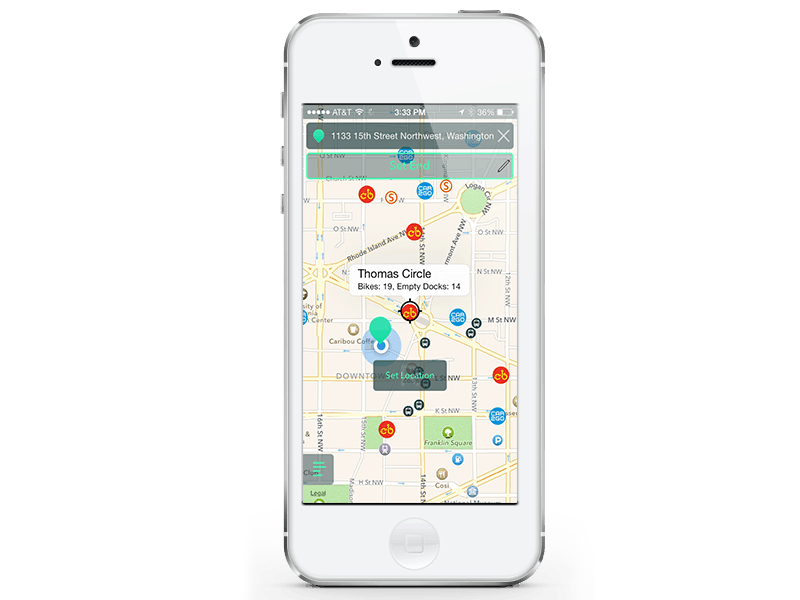 Do you own, work for, or patronize a business that is a good candidate for our 
business membership
? For just $300 per year, you can show your support for a bike-friendly region and WABA's advocacy. In return you'll receive:
Listing on WABA's business membership webpage with link to your business's website
Promotion upon joining through our social media networks, including Facebook, Twitter, and our blog (we have 5,200 Twitter followers  and 6,500 Facebook friends)
Use of WABA's bike-friendly business window cling and/or digital logo
Discounted WABA memberships ($10 off) for all employees
Support in applying for Bicycle Friendly Business recognition from the League of American Bicyclists