Get Involved: Bike Ambassador April Trailer Challenge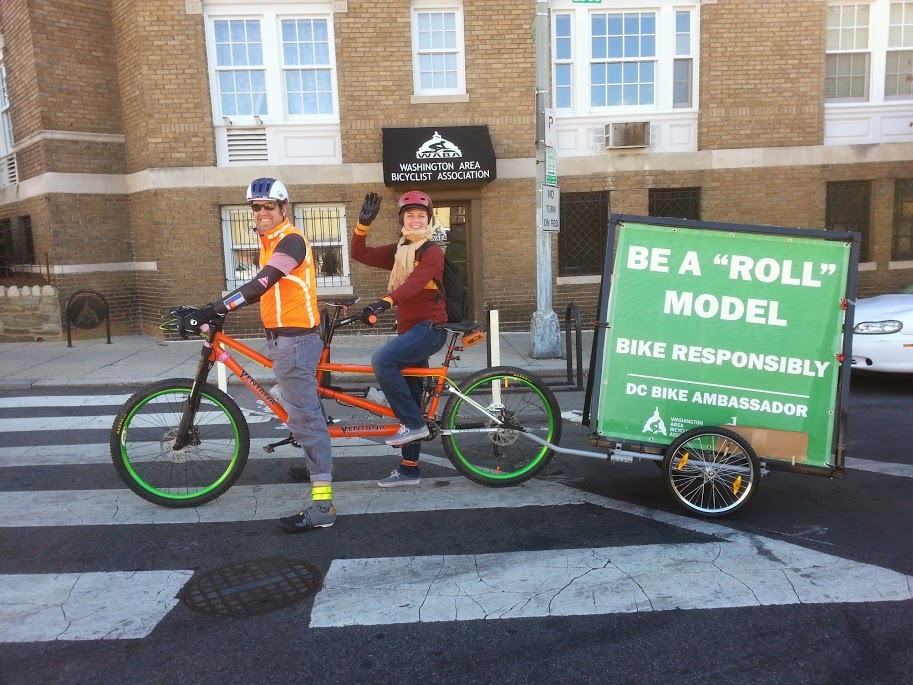 April is almost here, and we are excited to introduce a month-long bike ambassador project: the April Trailer Challenge. You've probably seen the BA trailers around town, and wondered what they're all about. This month, our goal is to spread the message of bicycling to everyone in the community in a positive, tangible way! The best part is that
you
can participate.
What is the April Trailer Challenge?
The ATC is an opportunity to get messages of bike education, outreach, and advocacy out to a broader audience in a fun way! Our goal as bike ambassadors is to get the trailers around as much of the city as possible during the month of April, and we're going to need YOUR help! We're aiming for 500 trailer team miles in just 30 days.
Why the Bike Ambassador trailer?
Pulling the BA trailer is a great way to reach drivers and other bicyclists and communicate with a different audience that we might miss through other forms of outreach. Our BA trailers have a series of interchangeable signs with various bike-friendly messages that aim to get people thinking about bicycling, acting as "roll" models, or driving safely around bicyclists. Engaging a broad audience with cheerful reminders is a huge part of the BA program, and we want to give everyone a chance to get involved. And, throughout the month of April, we'll want to remind as many people as possible to
register for Bike to Work Day
. We want to hit 17,000 registrants—a massive increase from last year's 12,000—and we hope that the ATC challenge will provide a great lead-up to May 16.
How can I participate?
Keep reading!
Attend the Kickoff Event
: It's on Mon., March 31st, 2014 from 6 p.m. to 8 p.m. at the WABA office.
Sign up here
! This kickoff doubles as a training session. We'll be acquainting ourselves with the nitty-gritty details of the how to participate, the rules, incentives, and gear up to take the trailers for a spin. Even if you're not sure you want to pull the trailers yourself, we still encourage you to attend the kickoff event! It will be a great way to meet the bike ambassadors, go for a fun ride, and get volunteer credit for riding with the trailer parade. (Volunteer with WABA three times, and you earn a free membership.)
Pull the Bike Ambassador Trailer
: You can sign up to pull the trailer on your own or to an event, or ride alongside the team as support crew.
Sign up here
to let us know you want to pull the trailer. Check out our
trailering calendar
and e-mail
dcba@waba.org
to set up a time.
Snap a picture
: Spot the trailer? Take a photo, and post it on social media! Tag us @wabadc using #bikeambassador (on Twitter, Instagram, or Facebook) and you'll be entered to win a free bike tune-up. For more information, contact the D.C. Bike Ambassador Program Coordinator, Megan McCarty at
megan.mccarty@waba.org
. See you in the bike lanes in April!