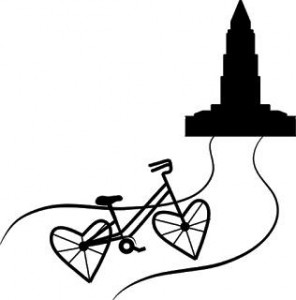 On Sunday, May 4th Alexandria women will join together for the Women on a Roll Ride. The group will wear green, gather at Jones Point Park, and tour local bike shops to declare and share their support for women's biking.
"Women are a powerful consumer force," says the League of American Bicyclists in its August 2013 "Women on a Roll" report on women's cycling, "but too often they do not feel welcome in bike shops or do not feel products address their desires and needs."
This is where the green comes in. The group wants to visually show that women who bike mean business; they represent spending power.
The ride is being organized by the Alexandria Spokeswomen, who formed in September 2013 out of a city focus group on women's cycling with the Alexandria Bicycle and Pedestrian Advisory Committee and WABA's Women & Bicycles.
Click here to view the Facebook event page, and click here to register.