Ladies, become a Bike to Work Day Pro or Protege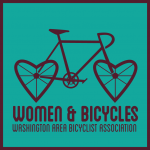 Women & Bicycles is WABA's outreach and encouragement initiative to build a stronger women's bike community and get more women on bikes. These posts certainly aren't exclusive to women, but they're produced with
and through the Women & Bicycles' programming and staffing. Click here to learn more and get involved.
Women & Bicycles is gearing up for Bike to Work Day and doing what we do best; sharing skills to inspire more women to ride. Regardless of your gender we need you to pass along the  invitation below and encourage the women in your life to participate as a Bike to Work Day Protege.
Dear lovely (friend, colleague, church-mate, neighbor, bus driver),

 

I think you should become a Bike to Work Day Protege!

 

You know how you always comment on my helmet? And you ask about how I fair on the rainy days? And remember the time you called me worried one morning because I was late for our meeting, when really I just stopped to smell the flowers a little too long?

 

Well, now it's your time to join the bike movement with our women's group. Our goal is to get more women like you out biking. This Bike to Work Day we're pairing up all the bike Pros with bike Proteges to mentor each other for Bike to Work Day.

  Sign up to be mentored as a Protege, and your Pro will get you all set up and excited to take on your commute. They'll work with you and your goals, like go with you to the bike shop, meet up with you for a weekend ride, share tips and tricks on bike laws and packing and safe riding. And Maybe they'll even go with you to a

WABA Confident City Cycling Class

.  

Click here

 to sign up! And join us at our 

Bike to Work Diva Happy Hour

.  

Happy Riding!

(Your name)

Clipart is always encouraged.