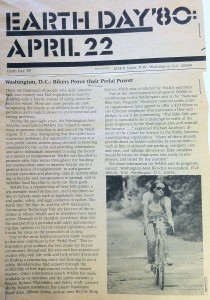 Happy Earth Day!
The tie-in between Earth Day and bicycling is obvious. Biking, as a means of transportation, is better for the air (no emissions), the water (less polluted runoff), and natural resources (no petroleum) than driving.  Today, this seems obvious, but in the 1970's our predecessors at WABA consistently fought to gain public recognition of the environmental importance of changing our transportation behavior.
In 1980, WABA led an Earth Day Bike-In that received significant press coverage and sparked what would eventually evolve into Bike to Work Day–which is still, at its core, an event designed to improve the region's air quality by getting new and longtime riders to travel by bike more frequently.
This year, all of WABA's programs are working together to push Bike to Work Day registration beyond 17,000 riders and continue to show that biking for transportation is a critical tool to for regional and urban sustainability.
Help us continue growing bicycling and growing Bike to Work Day by registering for the event here.