The ABC's of Family Biking Returns on May 3rd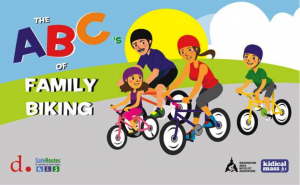 You are invited to join the DC Safe Routes to School program, Kidical Mass DC, and the Washington Area Bicyclist Association on May 3
rd
 from 11 am-2 pm for the 3
rd
 annual ABC's of Family Biking. This free, one day event helps you learn everything you need to know about biking with kids. The ABC's of Family Biking runs from 11:00am until 2:00pm and will offer:
Open Forum, 11:00am-1:00pm: A chance to talk, ask questions, and share tips with area parents who bike with children of all ages
Bike & Gear Show, 11:00am-2:00pm: See and test out all the bikes and gear from local bike shops designed to help parents bike safely with their children
Free Youth Bike Course, 11:00am-12:30pm: WABA's Youth Challenge Course teaches kids riding skills while having fun! Kids' bikes & helmets will be available, or bring your own! Parents must sign a waiver in order for kids to participate.
Parents & Kids Riding Class, 1:00pm-2:00pm: Parents and kids will learn skills for biking together, either as a family or in a "bike train" group. All participants are encouraged to bring their own bikes & helmets. All participants will be required to sign a waiver.
"Swap or Sell" Meet, 11:00am-2:00pm: Bring your gently used family biking equipment to trade or sell.
The event is a great chance for families to practice their bicycling skills in advance of National Bike to School Day which is May, 7, 2014,
more details are available here
.
Event Location:
The parking lot behind Capitol Hill Montessori School at Logan,
215 G Street NE
The location is easily accessible from the Union Station Metro and Capital Bikeshare stations. Metered parking is available on the street.