Bike to Work Day is Friday, May 16th: What to Expect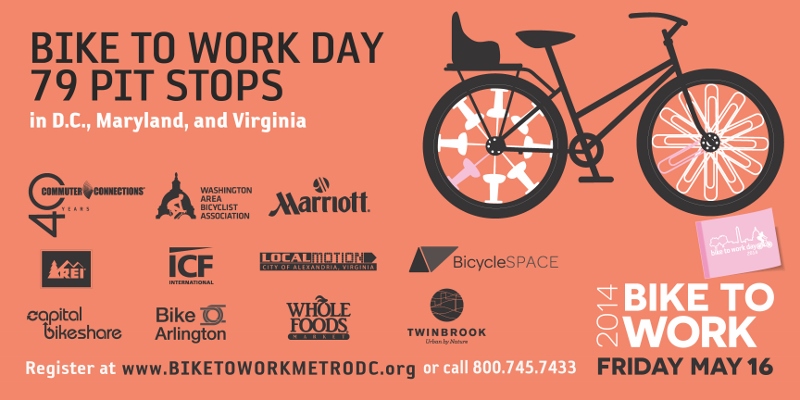 Bike to Work Day is the one day our region celebrates what you love to do: ride your bike! And WABA wants to make sure you
register
and participate in the big day! You get to wake up a little earlier (maybe even catch a beautiful sunrise), get on a bicycle, and smile. You'll stop by a pit stop on your way to work, enjoy a free breakfast, grab that sought after free t-shirt, and then ride your bike to work. You get to be counted as a bicyclist. You get to be part of the tremendous growth in bicycling ridership in our region. The event is organized by MWCOG, the Metropolitan Washington Council of Governments, in partnership with WABA. Check out COG's Commuter Connections Bike to Work Day
website
for helpful resources, like finding a buddy to ride with. Bike to Work Day is meant to promote bicycling as a healthy alternative to driving along to work. This year, the event is going to be huge. Last year there were 14,500 registrants. This year 79 pit stops are spread across DC, Maryland and Virginia. The backbone of Bike to Work Day, these pit stops help create a more concrete and visual bicycling community. So here's what you need to do in the next few weeks before May 16th: 1.
Register
. Seriously, it's SO important that you register so you can be counted as a person who bikes in the region. These numbers will help show growth in ridership and will help further and direct WABA's advocacy in the future.
You can register here.
(And did we mention, BTWD is a FREE event!) If you need to figure out which pit stop is on your way to work,
check out this handy map.
2.
Ready that bicycle.
If you haven't ridden your bike in a while, there's still a few weeks left for you to take it out of the garage and dust it off, give your ride some TLC (lube that chain and tighten the brakes), or take your stead to a local bike shop for a quick tune up (
WABA members get discounts at many local shops
). If you don't have a bike, borrow one from a friend. Bicyclists are very friendly. Or rent one from somewhere like
Bike and Roll.
3.
Invite a friend or coworker to ride along
. Riding your bike (and drinking free coffee) is always more fun with a friend. So shoot out some texts, Gchat your office buddies, or make a few phone calls. And make sure they register too! Then make plans to meet up that morning and ride to your pit stop together. 4.
If you're one of those over achiever types
then
consider joining WABA today
(or renewing your membership!) or volunteer with us. 
Sign up here to volunteer
with WABA at your local pit stop on Bike to Work Day to help spread the bicycling love. Have a happy Bike to Work Day!