Celebrate Bike Month: Volunteer with WABA
Happy Bike Month! Did you know WABA is a member supported non-profit organization that advocates for YOU as a bicyclist. Now, we need your help to make this year's Bike Month spectacular.
Can you volunteer to help WABA?
Tour de Fat Blitz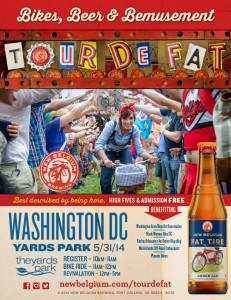 How you can help:
  We need your help to spread the word and tell DC, MD and VA to come to Tour de Fat. The more people we get to the Tour de Fat, the more money we raise to make the region a better place to ride a bike. Stop by our office anytime on
May 5th
to grab a few posters and fliers to take back to your neck of the woods.
PLUS! You can win a Tour de Fat VIP pass!
We'll raffle off two VIP passes to two volunteers who help out.
Sign up here.
When:
May 5th, Stop by anytime between 11am and 7pm
Where:
WABA Office at 2599 Ontario Rd. NW in Adams Morgan
Volunteer on Bike to Work Day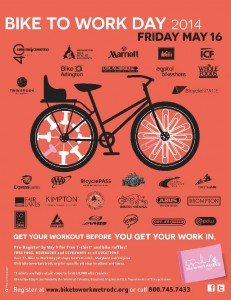 How you can help:
Bike to Work Day is the highlight of Bike Month in May. It's the one day of the year that the entire region celebrates what you love to do: Ride your bicycle! It's also a very important day for WABA to get out and talk to people about bicycling and introduce our work to a broader audience.
Sign up here
to volunteer with WABA at a pit stop and help spread the bicycling love.
As a bonus: The top three volunteers who sell the most WABA memberships on Bike to Work Day each win a free entry to a WABA ride of their choice!
When:
May 16th, Before you go to work (pit stops are usually open from about 6:30am-8:30am)
Where:
A pit stop near you! (
Find a map of pit stops here
)
Tour de Fat: the most FUN volunteering you will ever have!

How you can help:
Trust us, this is the MOST FUN volunteer experience you will ever have. Volunteer to pour beer, help set up the festival, or lead a bike ride and get two free beers and a snazzy New Belgium t-shirt in return. Tell your friends!
Sign up to volunteer now.
When:
Saturday, May 31st, Various shift times (We also need volunteers on Friday, May 30th)
Where:
Yards Park, 355 Water St SE in DC, next to the Nationals Baseball Stadium P.S.
Volunteer sign ups for Bikefest
on June 13th are also now open!