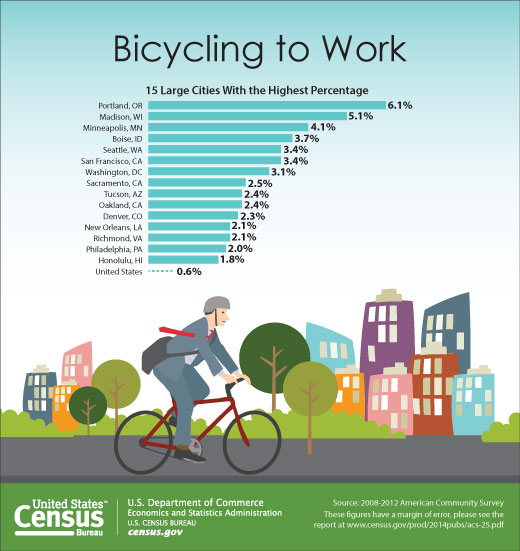 Biking to work has increased 60 percent over the last decade according to a press release from the US Census. Locally, Washington, DC has experienced a 310 255 percent increase of people biking to work in the same time frame. The District of Columbia has the highest percentage of bike commuters of any large city on the East Coast. The US Census compiled data from their 2000 Census and annual American Community Survey (2008-2012).
Launching today is a new interactive online map Census Explore with data on all commuting information. Data on transportation mode, travel times, telecommuting and other information is available nationwide. The US Census is releasing a report today which is their first in-depth analysis of biking and walking to work. The report titled Modes Less Traveled — Bicycling and Walking to Work in the United States: 2008-2012 is available for download in PDF.
The District of Columbia over the last decade has launched Capital Bikeshare, constructed three protected bikes lanes, painted over 60 miles of bike lanes, installed hundreds of bike parking rack and built new trails. The results are clear that people want to ride their bikes.