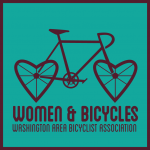 This is part of our Women & Bicycles blog series,  part of WABA's initiative to build a stronger women's bike community and get more women on bikes.  These posts aren't exclusive to women, but they're produced with
and through the Women & Bicycles' programming. Click here to learn more and get involved.

We're joining 
Team Sticky Fingers
for a fun night out on Thursday, June 26th for dinner and a movie, and cold beverages! Best of all, proceeds from this event go directly to WABA's Women & Bicycles program and the Women's Cycling Association. The event aims to celebrate and raise awareness for women's road racing with the screening of "Half the Road."  This award-winning documentary film explores the world of women's professional cycling, focusing on both the love of sport and the pressing issues of inequality that modern-day female riders face in a male dominated sport. We promise you'll have a great time and have a chance to win lots of prizes. Door prizes and more provided by DC-area cycling teams, organizations, local businesses and bike shops!
Event details: Thursday, June 26, 2014 Arlington Cinema and Drafthouse Doors open: 6:30 pm; Program begins: 7:00pm
Click here
to learn more and purchase your tickets