Women & Bicycles Tip: Become a Roll Model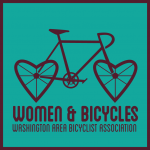 This entry is part of our Women & Bicycles blog series. Women & Bicycles is WABA's outreach and encouragement initiative to build a stronger women's bike community and get more women on bikes. These posts certainly aren't exclusive to women, but they're produced with 
and through the Women & Bicycles' programming and staffing. Click here to learn more and get involved.
We're officially recruiting our next group of Roll Models! Roll Models are the official Women & Bicycles mentors. These women help achieve our program's mission by bringing new women into the bike movement and by serving as personal mentors who provide encouragement, information, and ongoing support. Last year we had the support of 10 committed Roll Models from all around the region. They did an excellent job. These women worked hard to recruit soon-to-be bicyclists from their social networks and encouraged over 200 women throughout the season to give everyday biking a try.
How To Be A Roll Model
1. Be an expert of your own experience.
 You don't need to know everything there is to know about biking—far from it! You only need to have incorporated bicycling into your life as a form of transportation, and a desire to share what you learned along the way with women in your life.
2. Attend a Roll Model Orientation
. Orientations take place once a month at the WABA office. We will work through what it means to be a Roll Model, set expectations, and answer your questions. And we'll have snacks.
3. Recruit Proteges
. Call upon women in your social circles to be your biking proteges and participate in the program to learn more about bicycling.  As a Roll Model, you'll be a mentor to this group of women you already know—friends, family members, coworkers, book-club members, neighbors, etc.
4. Coordinate a Meetup
. This will be a private event specifically for you and your proteges. You'll work with our coordinator to choose a setting in which you feel comfortable to share a meal and host a round table discussion. We provide all of the content and educational materials and Chipotle, our program sponsor will provide the delicious meal!
5. Follow-up and be a mentor
. Your proteges' goals and next steps will all vary. It's up to you to determine how to follow-up and make sure they've got what they need to reach their goals. You will probably have to go on bike rides together, convoy to work, visit a local bike shop, check in to hear about progress, and celebrate their successes!
6. Bring your proteges into the fold
. Invite them to the Women & Bicycles Facebook forum, attend our workshops and rides together, keep encouraging them to take those next steps, and get them so hooked on biking that they eventually become a Roll Model.
Click here to sign up to become a Roll Model.